How to Plan Your Wedding (part 4) – Party Timeline
The wedding party timeline…or in other words, how to plan a belter of an evening reception. Man oh man! Time has bloomin flown since I started writing my series of helpful blog posts. The wedding season is well and truly here, and it is AWESOME :D If you are still in the throes of putting together your perfect day, this series will be awwwwwfy handy I hope. Planning a wedding is such a new experience for folk, so if this little corner of the internet can help you plan a belter of a wedding timeline then I'll be pretty chuffed :)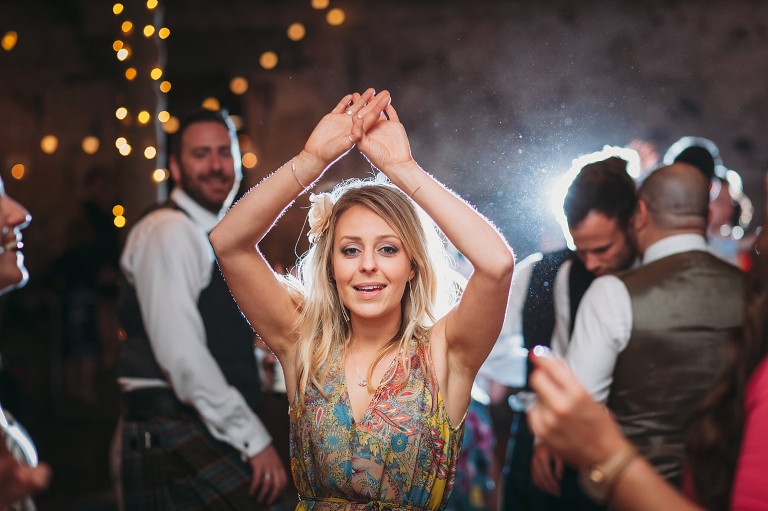 Serious shapes at Laura & Gavin's Kinkell Byre wedding
So what's left? If  you've read my other timeline related blogposts then your day should be shaping up rather nicely, doozy! Now it's time to party like it's 1999, so herein lies some handy info from some top wedding-y folks to help your wedding party timeline run nice and smoothly. Well, smoothly in the sense that it all works out great – I fully expect it to be the antithesis of smooth in terms of dance moves – a rip-roaring belter of a hootenanny, ties on heads, wild lunges, the lot!
I couldn't do this on my own, so this time up it's the awesome Craig of Franco, and David of Nick Bruce and His Blinding Lights – both absolute bosses when it comes to ripping your dance floor a new one and making sure your wedding party timeline is a good un…
Ooh and before I forget – this blog post isn't a "do it this way or your party will be honkin byraway" – more of a "here's some handy tips you might not have thought of before" :D so without further ado – buckle your seatbelt, let's do this – how to get the most out of your wedding party timeline!
"Look, spaghetti arms. This is my dance space. This is your dance space" – Johnny Castle, Dirty Dancing
The first dance. A part of your wedding party timeline that lasts but a fraction of the day as a whole, but can still strike fear into some of us. Whether you are having a slow shuffle, a perfectly practiced and executed waltz…to even a choreographed epic shimmy then I'd say it's worth it not to worry too much about this bit if it is making you nervy. It will be over before you know it, so you might as well just enjoy it :D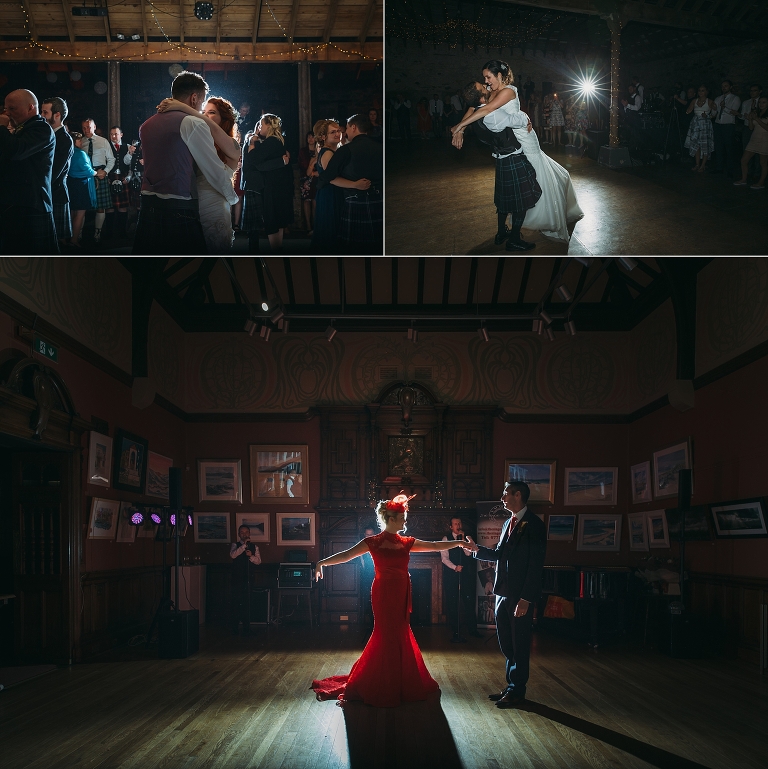 First dances at the Byre at Inchyra, Kinkell Byre and Glasgow Art Club
It can be quite good to have a small idea of how you are going to do it – and what better way to practice than in your sitting room or kitchen with your lobster – wine optional! If you do decide to opt for something a little more choreographed, then good on you, and if it helps calm the pre-first dance nerves then why the heck not. But don't beat yourself up if you forget a move, or it doesn't quite go to plan. Situations like that end up being the funny stories you laugh about later.
Take Sue and Kenny for example. They had an elegant waltz planned for their first dance, but moments before they were due to go on they realised that the dance floor was considerably smaller than the one they had practiced on. Fine, no problem they thought – "we can make this work"…then Kenny's sgian-dhu got caught in Sue's dress, meaning they were forced to shuffle instead of sashay. Did it ruin it? No, they laughed the entire dance and I personally think it was awesome. So aye – I guess my advice here is plan your first dance a little (or a lot!) if you feel you'd like to but don't sweat the small stuff – things can and do go awry so best to just go with the flow if it does :D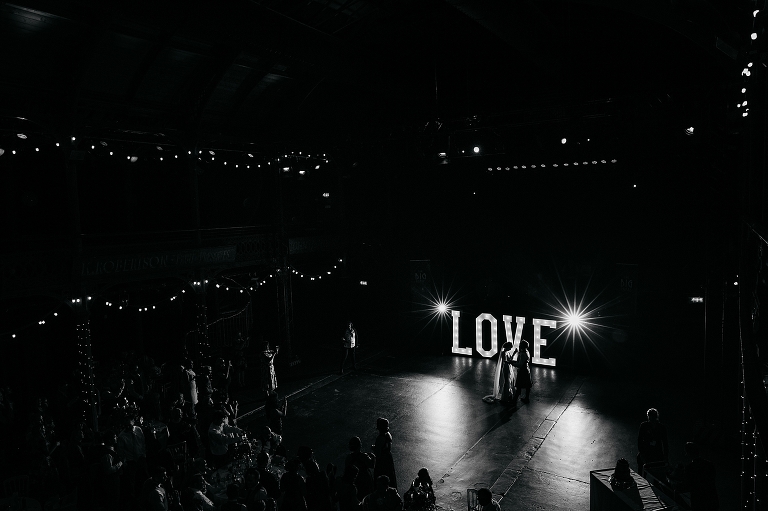 First dance at Glasgow's Fruitmarket
But hey – all that advice and a first dance still gives you the both the heebie-jeebies? Then here's a question. Why you doing it huh? If it's not you, don't do it. It's a tradition yes, but one that can definitely be broken if it isn't your cup of tea. You could opt for a group first dance – or (controversy alert!) – DON'T DO IT AT ALL. Just make sure that your band/Dj/co-ordinator know that this is the case – just in case they unknowingly announce you to the floor…I'd like to think in that case – you'd be this guy ;D
"It's party time. P, A, R, T. Why? Because I gotta!" – The Mask
So yer shindig is off to a belter of a start. During this bit of your wedding party timeline Liam and I will most likely be getting involved. Did I say we love to dance? We LOVE TO DANCE. So we will be shaking it, taking photos as we go. We use a few techniques that we think really help capture the motion and fun of the dance floor – so as well as doing a more static type 'frozen in time' shot, we will also add in a shot which I like to call 'twirly light stuff'. Technical huh? This is all done in camera, and I love it for the dancefloor. LOVE IT. :D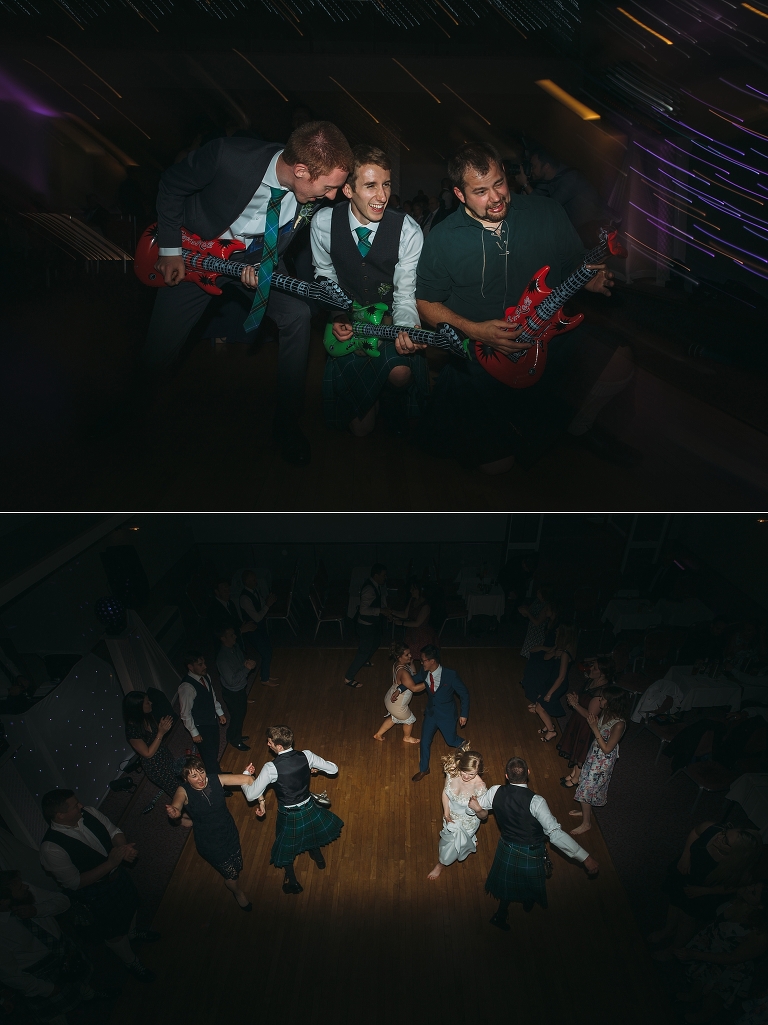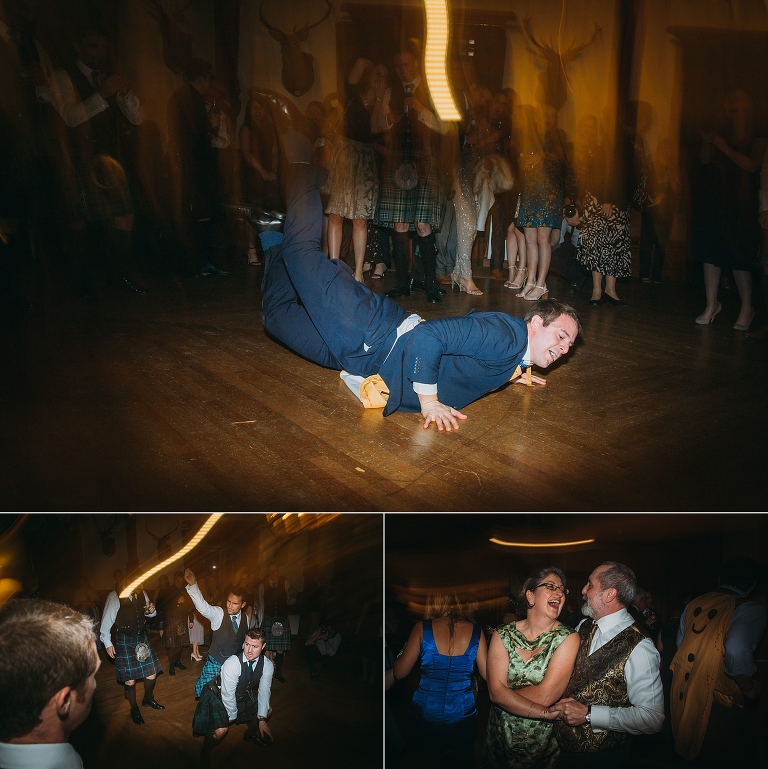 Twirly and static lit shots plus Mad shapes in Elgin and at Glen Tanar
But hey, what are we looking for at this time? Easy. We are drawn to the folk that are lost in the moment. The quickest look of love between you and your other half, or perhaps two of your guests. We gravitate towards the group of friends that are cutting loose like it's the last party they'll ever attend. We get right down and involved in the mental moves, the shocked laughter at a wild high kick, the reactions. Give us it ALL.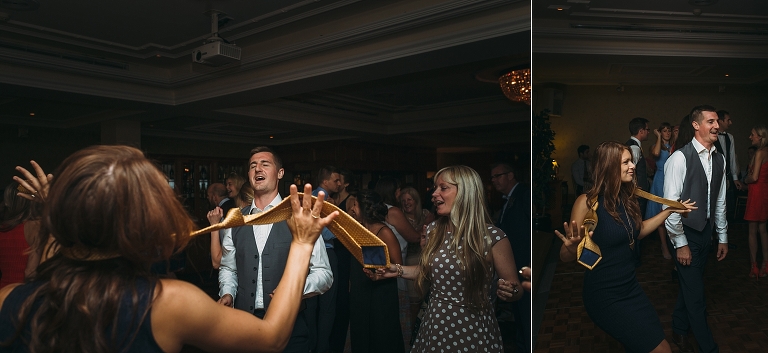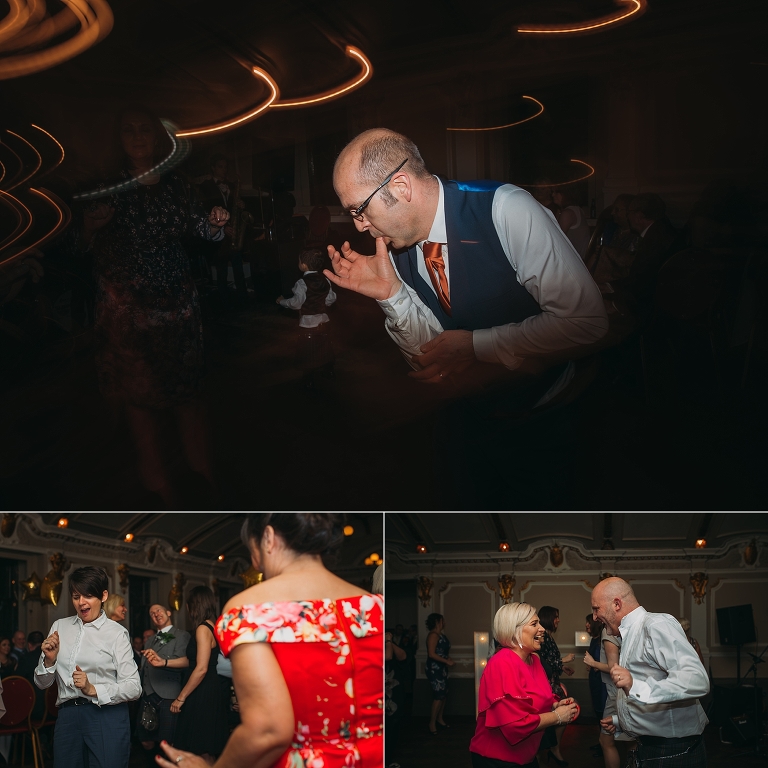 Different approaches to photographing awesome wedding dance floors at Lochgreen House Hotel and Sloans, sponsored by some incredible moves
"It's time for the Big One" – Goose, Top Gun
So while Liam and I think we know a thing or two about a good wedding party timeline, loving to tear up the dancefloor (even if it is our kitchen while we cook dinner), I thought it would be best to ask a few talented party folks how they do. Craig Parker is one of the band members of Franco. Who are Franco you may be asking? A 3-part harmonising, power-trio, rock and pop aficionado Party Experts, that's who yo. Here's what Craig had to say…
"The best parties always run a little late. When I arrive I love to hear that proceedings are running 20minutes behind because "the speeches ran over" or "we couldn't get them all seated for dinner in time". That's Music to MY ears. It usually means everyone is relaxed and making the most of each other's company."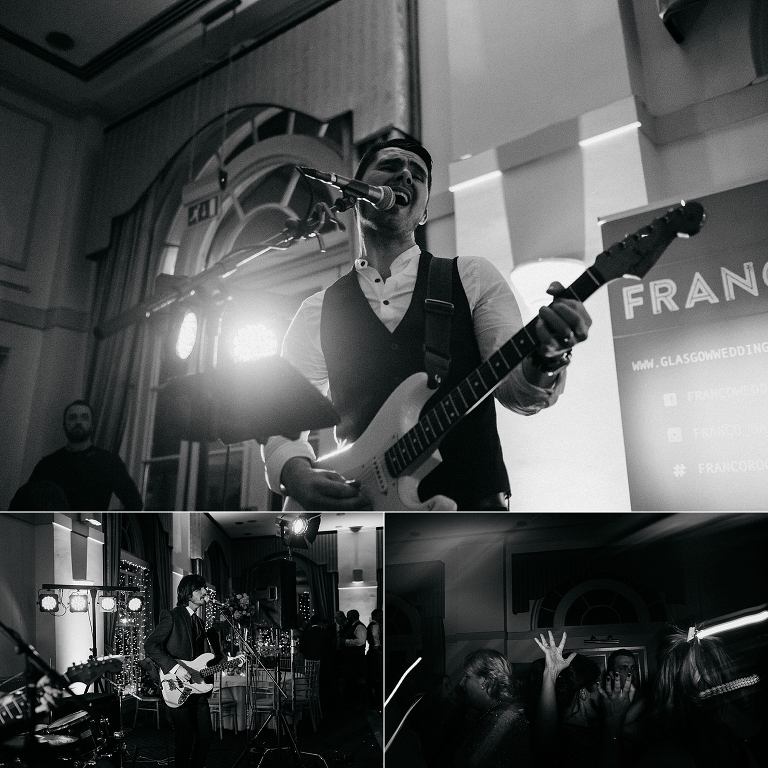 Franco rippin' it a new one at Balbirnie House Hotel
While you don't want things running crazy late, I have to say I agree in part with Craig – I tend not to ask what time the first dance is scheduled for ahead of the big day as it rarely happens at that planned time (plus we know we are going to be there anyway!) – although anything over the half hour mark and you are eating into your own shimmy time! It goes back to the theme of the entire blog series – plan it well enough, and be generous with your timelines so that if things do run late, it doesn't have negative knock on effect :) Anyway, back to the bold CP;
"We arrive one hour before the first dance is due to take place. Usually in that time we'll be loading in and setting up for soundcheck and nine times out of ten it's to an empty room while the venue turns it around ready for the evening. We'll come and say hi and talk to our couple before we start – Usually this is to double check surnames as typically most correspondence up until now will have been with one half of the couple – and check for any announcements (no problem), cake cutting (fine) , Aunty Jean wants to sing (only if she's sober), do you know any Stone Roses (we don't) etc etc."
"We believe the dance floor is a shared responsibility between the band and the audience. We only ask that they commit 10% effort and we'll put in the other 90. It's a perfect partnership that way. At the end of the night people will tell us how much fun they've had and thank us and we say to them in all honesty we're only as good as the crowd we're playing for. If it's been a great night then we've all done our jobs well!"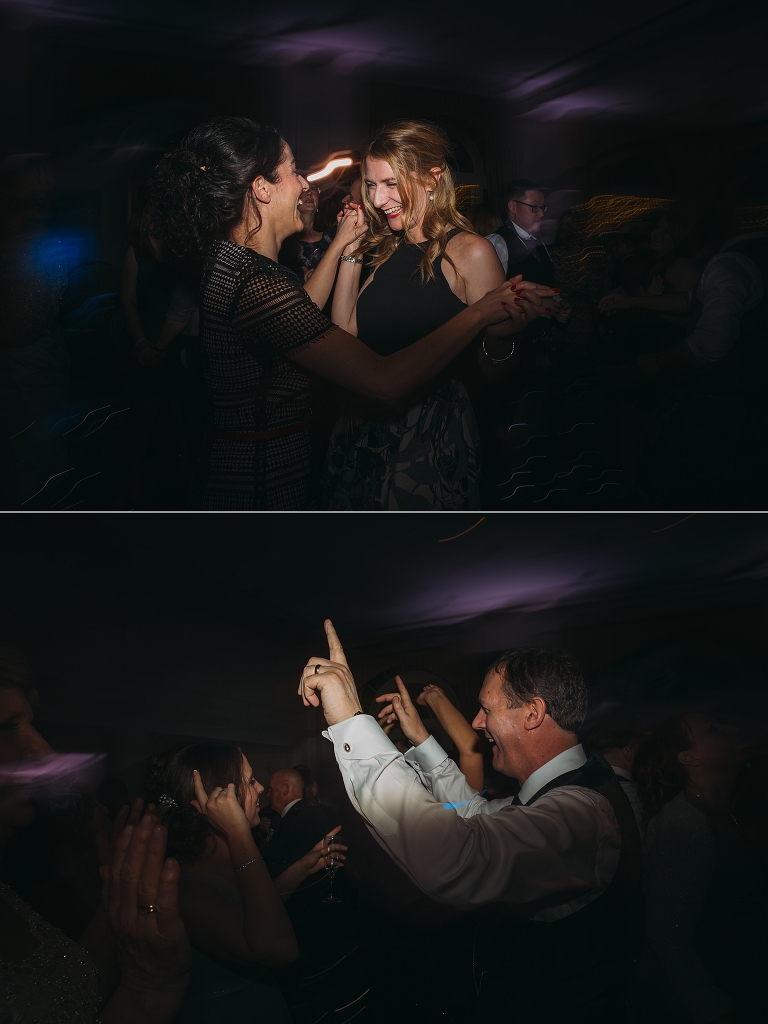 I can attest, Franco can fill a dance floor and also offer a good old ceilidh – in fact, one time I heard a nifty little Top Gun guitar solo in amongst a normal song. Kudos lads, that was tremendous :D You can catch Franco on their facebook, insta and website. They also play at Box every Monday so that's worth a gander if you're out and about!
"I've got a lion in my pocket and baby he's ready to roar" – Prince
Nick Bruce and His Blinding Lights is a high-energy six-piece Scottish jam band playing funk/soul covers. Think big vocal harmonies, an awesome horn section, and eccentric mash-ups. They specialise in absolutely nailing corporate function and wedding gigs, and in playing a highly bombastic and arguably too-long version of Purple Rain… :D
Ok ok, are you READY FOR THIS? Perhaps one of the greatest moments I've had the pleasure to witness at a wedding…Sit down, no…stand up, shake your shimmy and get involved, then we can get back to the blog :D

Thanks to MacDonald Studios and Andrew Blake Photography for the awesome footage, and to Walnut Wasp for the edit of this epic video!
Wooft! Ok, re-focus, re-focus. David (a rather badass Blinding Light) had this to say about planning your ideal wedding party timeline – taking it way back to the beginning, the actual search for your wedding band;
"Booking a band can be such a minefield. There's bands that do a bit of everything, and there's bands that really dig deep and specialise in one sound, like our band. There are bands like us that are fixed line-up bands who rehearse together regularly (albeit with a good network of emergency deps), and then there are roster bands that send out multiple bands per night under the same name, using a wide pool of musicians. Sometimes it's hard to tell the difference, so it's worth asking them directly when you enquire, if it's important to you that your band know each other and play together regularly."
"Attending a live gig or at least seeing the band in person at a rehearsal is a good way to be sure of your choice before you book. If they have any live videos then that's a good fallback as well. Studio videos and audio demos from a recording studio really aren't worth much as far as working out what the band actually sound like."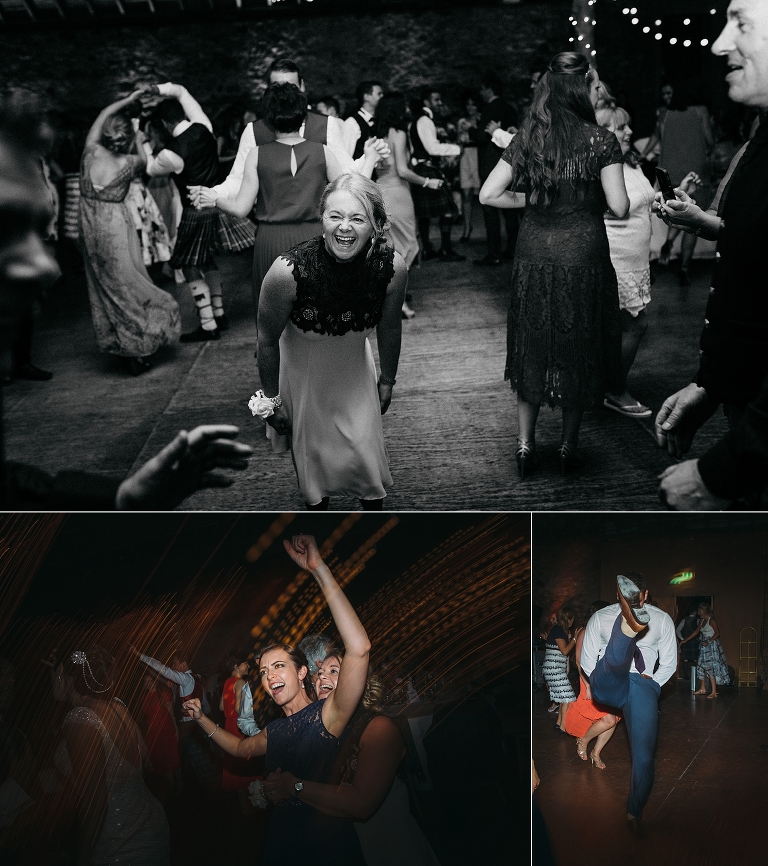 A great wedding band will result in epic shapes, much like these moves at Kinkell Byre :D
David also had this to add – advice that seems obvious, but is so often overlooked – bravo David..!
"Weddings are very often big reunions; if your evening guests have only arrived at 7.30 then they've still got plenty of chat to get out their system before they're ready to start dancing. So there are things you the couple can do to help pack the dancefloor early, if that's your goal. The fact is that people gravitate towards the couple. So, if the couple get on the dance floor early and stay there, then the dance floor will fill up more, and will stay busier from an earlier stage. We have all kinds of tricks up our sleeve to encourage people to participate and to get into it from the get-go – but a game couple will always help any band get the ball rolling, especially if there's a lot of evening guests who haven't been around drinking all day!"
Cheers to David for that steller advice – you can catch Nick Bruce and His Blinding Lights on their website, facebook and insta :)
When my best friend Jeff (Jennifer!) got married, she covered this and more with us, her bridesmaids. She asked us to make sure the dance floor didn't empty. Not really a hard task seeing as we all love a boogy, but putting this thought in our heads ahead of her big day meant that we made a point of being up and shaking our tail feathers, I have to say the slippers she gifted us for this part of the day were an absolute godsend pahaha! She and her now-husband also agreed that they would make sure to meet on the dance floor every 4-5 songs at least – a great idea in my opinion! Too easily you can get carried away chatting to folk, and before you know it your night is over with hardly any dancing with your new husband or wife :-O
In fact, you may even have a song or two from the hen or stag, or your friendship group that is GUARANTEED to get folk up…always worth a wee think about too :)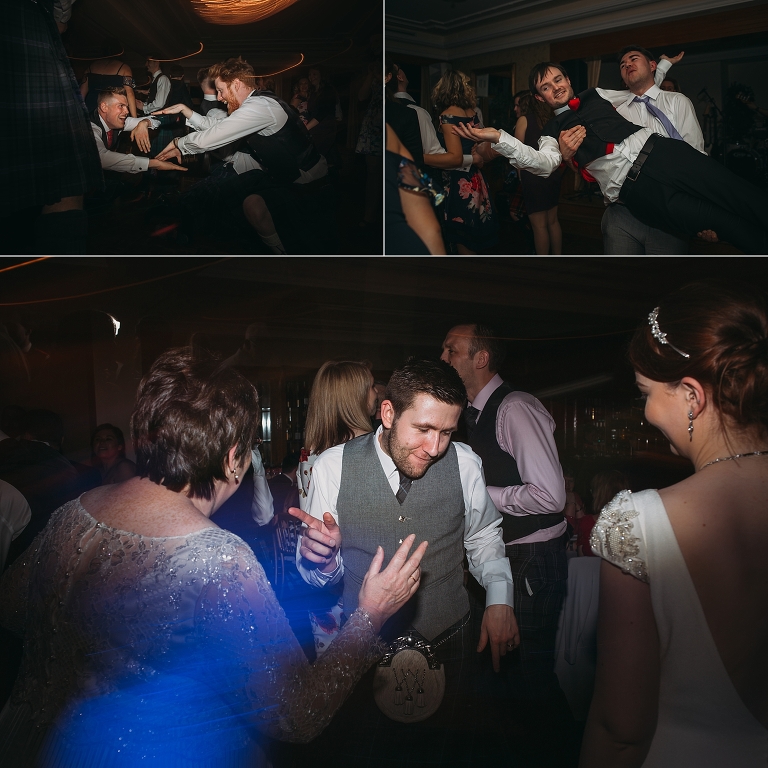 Excellent shenanigans at Lochgreen House Hotel
"And if it's crowded, all the better, because we know we're gonna be up late" – LCD Soundsystem
So when do Liam and I stop photographing? We don't really put a time on when we finish – mostly because we don't go until we feel we have a healthy amount of your wedding party timeline covered :)
Once we feel we have enough, we sneak off to set up one last shot. One for the road, or in Scots, the Deoch-an-Doris. This is something different each time, and once I have tested the shot on Liam (he loves it really!) we get back to the party to find you. A wee 5 – 10 minutes later and bish bash bosh, we have an image that will, for us, round off your final wedding gallery. It's really important to me that we have a Deoch-an-Doris – your wedding is about you as a couple, a celebration of your love, so to me it makes complete sense that your final gallery should wind up there. Once 'the shot' is in the bag, we say our goodbyes, we hug, and then Liam and I drive home, buzzin' about all the joy we just got to witness. Man alive!

So there you have it. Your wedding party timeline is a peachy work of art. So I guess this crazy journey is finished…Well, this blog series anyway :) It's been a wild ride eh! If you've got this far then I hope you are ready to crack your knuckles and put some ideas into motion, or maybe you are sitting safe in the knowledge that your timeline in it's entirety is a cheeky wee belter. Either way, thank you to all the awesome wedding suppliers that have chipped in, and thank you for taking the time to read to this point.
We've come a long way baby, bring on your WAAAADDDDDING ;) xx
'Mon, take a dander through my blogs, it's what they are there for after all ;) Don't forget to check out the categories below too!