Sue and Kenny's Sloans wedding was one of those days that sticks in your mind. They were one of the first couples to take the leap of faith in booking me with my limited portfolio at the time, and for that reason they will always have a special place in my heart! They were both exactly my cup of tea and I'm pleased to say that we are still in touch to this day :) At the time, I didn't blog their wedding as it was picked up by We Fell in Love (aiiieee!), so it seems only fitting that I do a sort of Throwback Thursday now :D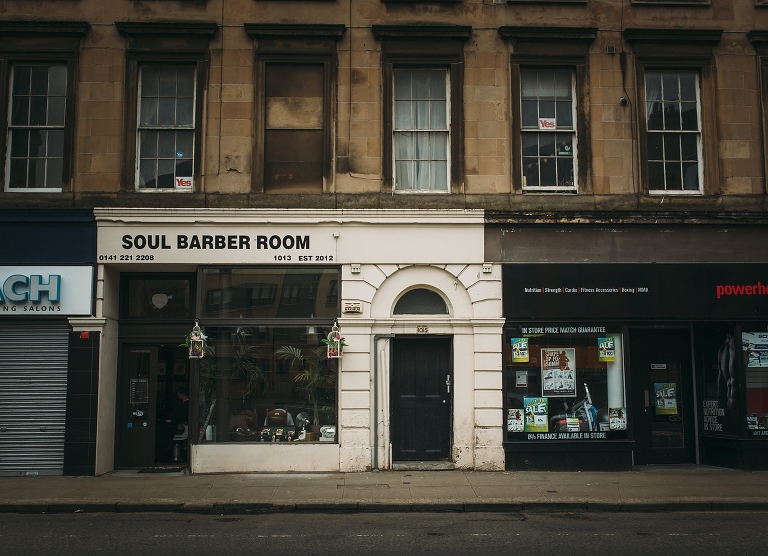 Kenny has a special relationship with Soul Barber Room, in that he thinks their epic sprucing prior to key dates with Sue lead to her falling completely in love with him and agreeing to marry him. I like to think there was more to it than that, but when he told SBR about this thought, they offered their amazing shop as a space for him and his groomsmen to start their day. SUCH a cool space and I can honestly say I've not shot groom prep in a similar setting since. Sue went for a slightly more relaxed affair at the Fraser Suites, and LOOK AT HER BLOOMIN DRESS! So perfect, just like Sue :)
I don't hide the fact that I love Sloans, it's very atmospheric and nestled right in between two of the busiest streets in Glasgow, a complete hidden gem of a place. Some favourite memories of the day include Sue's niece standing in front of the fan, mesmerised by it's lovely coolness (haha!), and Sue and Kenny's first dance. They'd had a few lessons to ensure they sashayed around the dancefloor – unfortunately at the pivotal moment, Sue's dress got caught in Kenny's Sgian Dub (the wee knife thing in his sock!), resulting in a cute swaying and lots of laughter from the two of them. Perfect example of planning the finer details, but not getting swept up if it doesn't all go quite to plan.
Fast forward a couple of years and Sue & Kenny are now expecting their only little sprocket, due any day now! I can't wait to meet the wee dude – he's already off to a great start having complete legends of parents :) xx
Salutations to Awesome Suppliers!
Venue: Sloans
Flowers: Little Botanica
Hair : Miss Bartons
Makeup: Alexis Miller
Dress: Pronovias
Stationary: Skinny Malink
Accessories: Corrine Smith Designs
Cake: M&S with flowers supplied by Little Botanica!
Evening Entertainment: The Royales & later on, Anna Gram