How to Plan Your Wedding (part 1) – Pre Ceremony Timeline
Timeline. More specifically, your wedding day timeline. For a lot of people, planning a wedding is a very new experience. There can be quite a lot to consider, so I am hoping that this little corner of the internet and the following 5 points will help you get the most out of your own timings on your wedding day.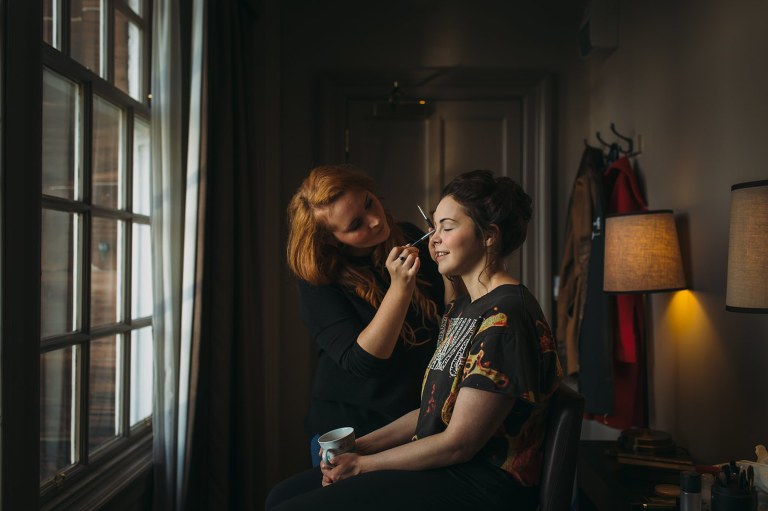 Probably best if I start with a disclaimer hey? When I talk about timelines, I'm meaning a timeline to get the best out of me as your wedding photographer – it would be a bit of a donkey move if I claimed that this was how everyone should operate :D  There will also be handy input from some of the loveliest wedding suppliers out there and how they work best with timings, namely Cat Robertson MUA, Jennifer Thomson Hair and Kelly & Craig of YPod Wedding Films – so woohoo! By the end of this series you may be able to sit back and say "hey, I got this!" – but if not, then you will definitely be able to sit back and say "ooohhhhh, I didn't think of that, sweet, cheers Jo & Co, you are speaking to the inner logistics King/Queen lurking in my heart!"…or something to that effect :D
So without further ado, let's crack on from the beginning – your preparations before your ceremony and how to get that timeline just right, yeh buddy!
1. "hit me with your best prep"
If your vibe is all about the DIY and you plan to do your own hair and makeup, or perhaps have a friend do it for you I'd definitely encourage a wee trial run if you can. That way you can get a rough idea of how long it may take and factor it into your timeline for the day, what you'll need to bring and to make sure you like it! It's definitely not something to try for the first time on your wedding day and hey – who needs a reason for a good old catchup with your bezzzzuuuuuur ;D
I'll usually start 2 hours before your ceremony time – closer to 2.5 if your ceremony is in a different location so that I can use that extra half hour to allow for my own travel time between places. So what am I looking for in those 2 hours? Easy, the start to your story, the setting of the scene, and a hug from your lovely self :D I'll take photographs of the details that are being brought together to make this epic day – your dress, or the cute card from your other half – but a big part of what I really dig during that time is documenting what is happening. The looks, the laughs, the shoulder squeezes, the slightly bonkers hair pre-fixing, the nervous anticipation – that's what I am passionate about getting for you. It's much the same approach with your other half, which my other half Liam covers (try saying that 4 times fast). Our main aim is to be relaxed, let your time unfold and document as we go :)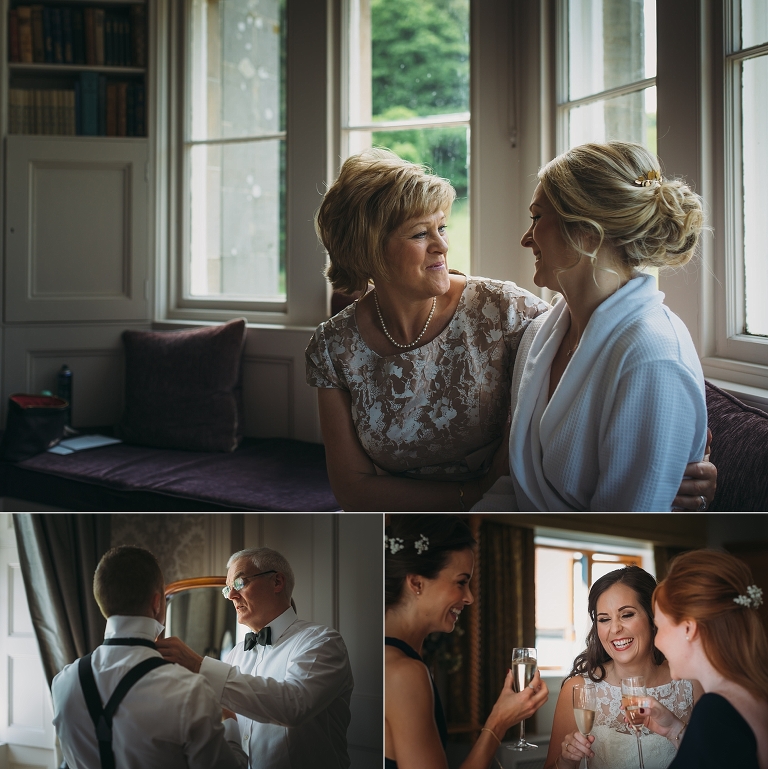 2. "The most beautiful makeup on a woman is passion. But cosmetics are easier to buy." – Yves Saint-Laurent
Anyone who regularly watches my instagram stories will know that my area of expertise is definitely not hair and makeup, so I am not going to tell you when your MUA or Hair Stylists should start if you are having them – my own routine is down to a fine art of 6 minutes/20 minutes respectively, for I am a savage. I thought it was best to ask those in the know…
Cat is the epic talent behind Cat Robertson MUA, and knows her shiz when it comes to a solid bridal timeline before your ceremony. She had this to say;
"I'll always discuss timings at your trial. The trial is about way more than trying out your ideal look (although this is the mega fun part!). It's a great way for us to get to know each other, and to fine tune that timeline so that when your big day comes, you can have a relaxed time and enjoy it all. Make up artists work at different speeds, but I generally allow 45 minutes per person, and then add on a half hour at the end for touch ups and the like. It's my aim to have you all finished around 30-45 minutes before your ceremony (more if there is travel involved) so that you can have a bit of time to chill, drink a glass of fizz, get dressed and fist bump each other. It always helps me massively if at least 2 of your bridal party are showered and ready to get their faces on by the time I arrive – this eliminates any faffing which would ultimately eat into the time you have to get ready."
Cat also makes a point of never leaving the bride until last, just in case times do get tight – "the bride is the one person who shouldn't be rushed!". A good make up artist will always allow more than enough time for everyone to be done.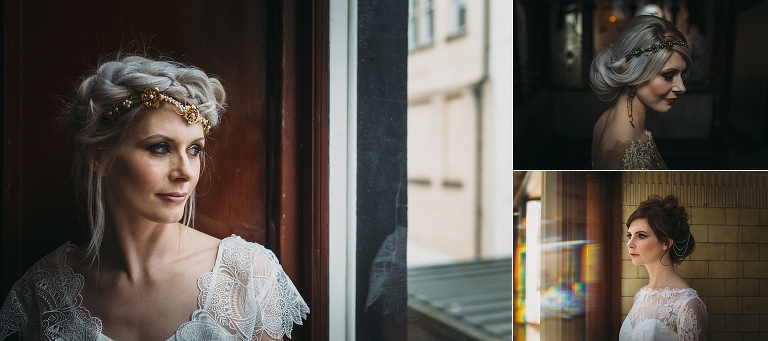 Some of Cat's stunning work as part of a styled shoot with Modiste, Flossy & Dossy and Cameo Bridal Styling (and me!) at Sloans in Glasgow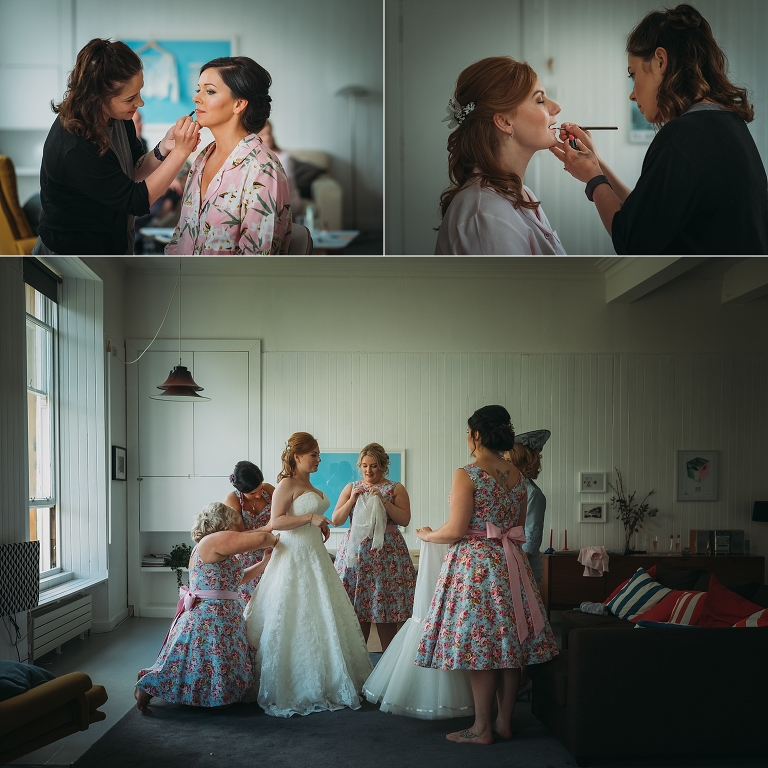 Cat doing her thang on Gillian's wedding day, hair by Pinup Hair
I adore working with Cat – she is definitely top of my list when it comes to ye olde makeup – she also offers makeup lessons which are great – I went along to one and it definitely upped my face game so thank you Cat!
You can also catch Cat on facebook and insta. Did I mention her shiz is cray? She be badass man!
3. "A woman who cuts her hair is about to change her life" – Coco Chanel
Jennifer Thomson is the utterly delightful, super talented force behind Jennifer Thomson Hair, she's award winning dontcha know – and my cousin :D with over 14 years in the business she knows good timeline etiquette, yo.
"I always aim for 1 hour per person; allowing a little extra time for alternating with make up artists, swooning over your gorgeous bouquet that has just been delivered or topping up the bubbly! For larger bridal parties I bring an assistant to keep everything ticking over smoothly, so that you can have  a nice relaxed time. Good suppliers provide guidelines to ensure a smooth running timeline for you, so don't panic if that means we say we will be arriving at 7am. You'll be surprised how quickly your time before the ceremony flies in – especially that last hour!"
Jennifer also makes a point of planning your desired look before your wedding, and added that "having your hair washed and blowdried the night before can save time for your hair prep on the day", but she is always on hand to help decide if that's something her clients will need. Having seen Jennifer at work several times I can agree that she is very much a calming influence on the day, even helping with corsets and tricky button loops if the need arises.

Jennifer giving errrbody hair goals at April's wedding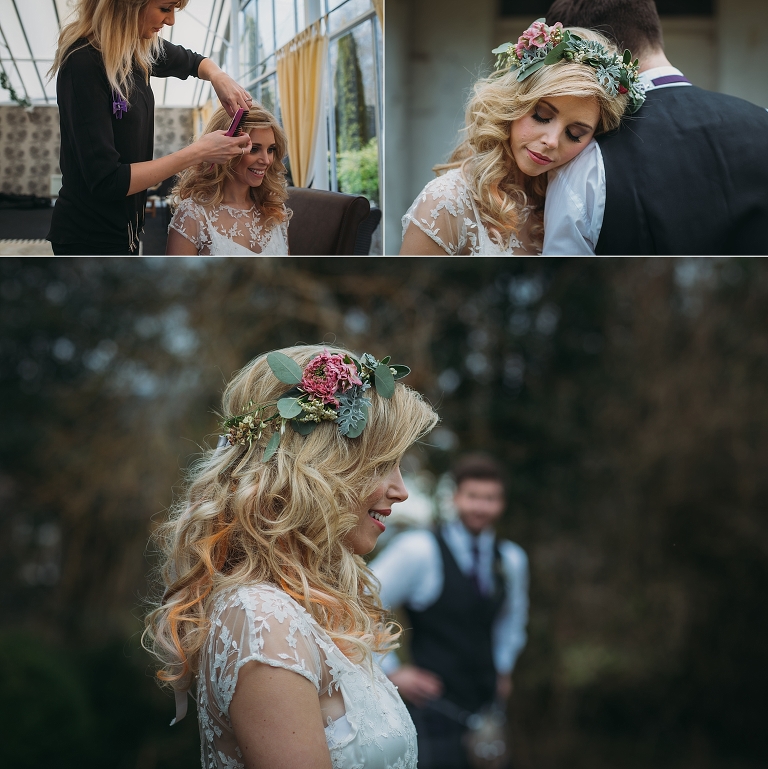 More beautiful work by Jennifer, floral crown by Wildflower Florist, dress by Flossy & Dossy and Makeup by Marisa Brown MUA on a styled elopement shoot in Balmaha, Scotland
Jennifer creates theeeee most romantic, pretty styles and her work can also be found on facebook and insta :)
4. "I say, dress to please yourself. Listen to your inner muse and take a chance. Wear something that says 'Here I am today!'" – Iris Apfel
Jennifer has allowed me to neatly move onto the next part I'd like to chat about…your outfit :) More to the point, if you are wearing a dress, how long does it take to put on? Or if you are rocking a fancy suit (check out ten30 for some mega badassery suit options), how long do you think it will take (are you sure you know how to do a bowtie, a buttonhole?) I know, I know – surely it doesn't take that long, right? Well, I always say it's not like putting on jeans and a jumper. How does it do up? If it has zips, yaldi, nae bother! But if you have a corset, ties or perhaps super cute yet fiddly buttons you may want to allow slightly more in your pre-ceremony timeline than you think you'll need. Your preparations in the morning are hopefully a fun, chilled experience, and you can help keep it that way for yourself by ensuring your final touches are the same.
Oh, and those cute yet fiddly buttons? A crochet hook can be just the ticket for getting those done in a jiffy. You can get them easily here, or here! I tend to keep some in my bag just in case (I actually got that tip after working with Jennifer one morning!) , and they are a bloomin godsend for babe-bridesmaids with new nails on, or nervous Mams with shaking hands :)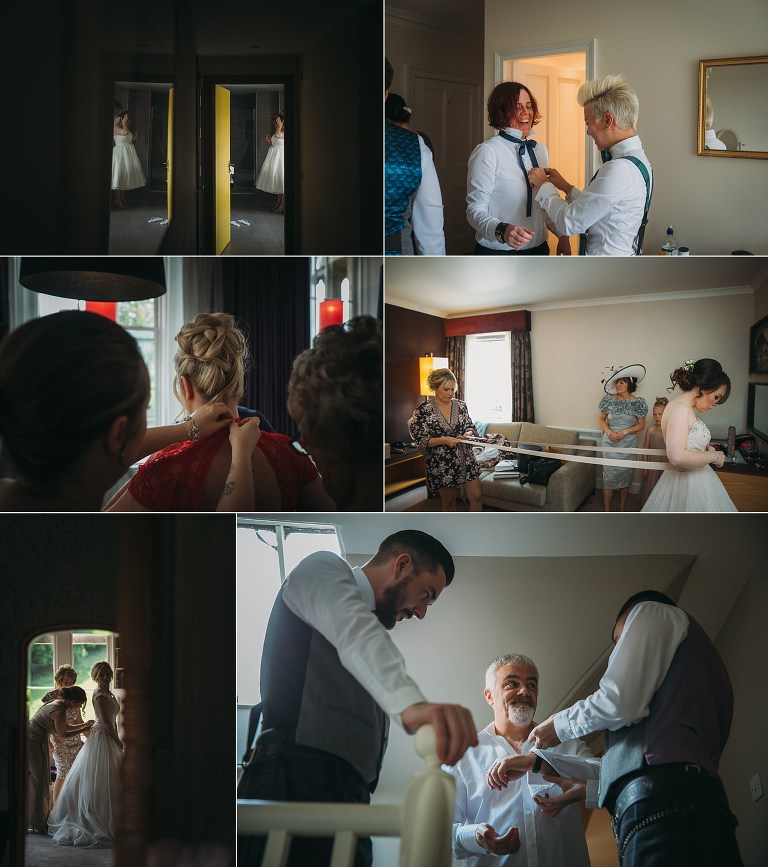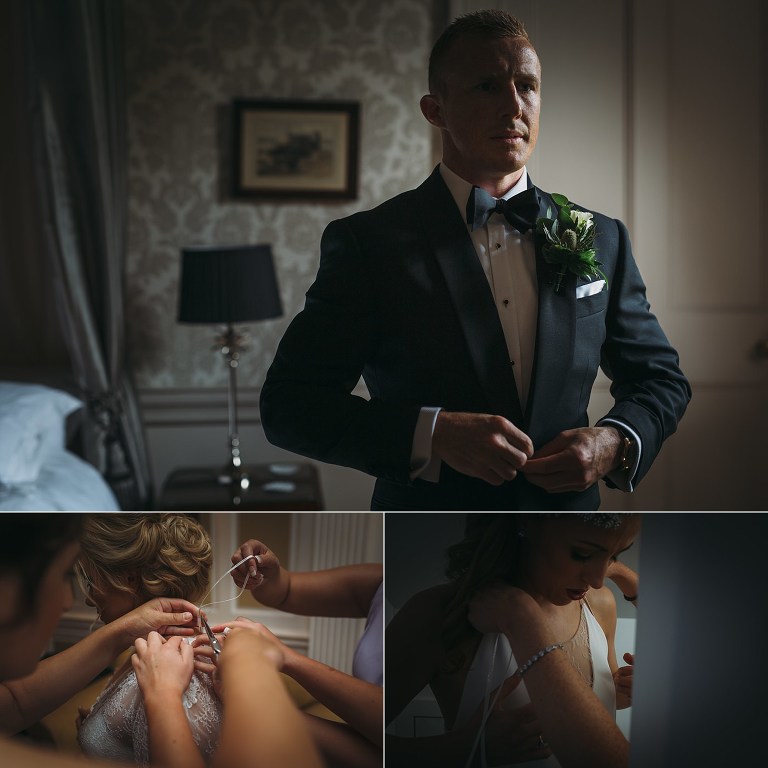 5. "Style is knowing who you are, what you want to say, and not giving a damn." – Orson Welles
Alright alright, fellas! You didn't think I'd forget you, huh? BRO CAMON, as if I would!
While it's probably safe to admit that there may be slightly less prep from the guys side, this isn't a hard and fast rule and there certainly isn't any harm in offering a few wee nuggets to think about to get that timeline rocking :) Kelly & Craig of the mega incredible YPod Wedding Films had this to offer;
"As film makers, the morning preparations are the most awesome way for us to start telling the story of your day, so we try and get there right when all the fun and action is happening. Groom prep works best for us if the guys are not totally ready before we get there so we can film some of those little details before you are dressed, and some shots of you all getting ready to go. We will have a wee chat about your timeline before the big day so we can get this just right."
YPod are crazy good at reportage style film making – or if you're not entirely sure what that is – hanging back, being super sneaky in the most wonderful sense and filming your day as it unfolds in the most beautifully cinematic way. And in their words?
"We are looking to capture the general vibe of your day and film the fun, laughter, nonsense and nervous looks. No cheesy posed stuff from us, we just float around in the background documenting the madness (occasionally joining in and having a wee dance to your funky tunes) and all the awesome little details that make your day ultimately about you."
YPod are incredible to work with at a wedding, and I always do a wee air punch when I hear I will be working with them. Specialising in cinematic, storytelling film making they also had this to add about the pre ceremony timeline;
"We will usually be with you for around an hour each before heading to get all set up for your ceremony and film some excited guests as they arrive. We hugely appreciate when lovely newlyweds hold off opening any cards or gifts from their other half until we are there to capture it in all it's emotional glory :D" 
I had the absolute pleasure of working alongside Kelly & Craig at Laura & Gavin's wedding (you can see the full gallery here) and they created this mega smile-a-thon of a reel for Mr and Mrs Hogarths Kinkell Byre wedding…
You can also catch YPod on their facebook and insta :) and in other news, Kelly has a pet hedgehog. A PET HEDGEHOG PEOPLE.
Kilts, are a whole different ballgame. Not many people regularly wear a kilt (except this guy) so make sure before you leave the shop that you have everything. And even if you think you do? It's worth another check, trust me! Opening your kilt bag on the morning of and discovering your kilt flashes or even worse, one shoe is missing may not help with any nerves you might have on the day. Youtube is pretty handy for getting your tartan looking tip top, and don't forget to pay attention to your kilt length – it ain't a mini skirt :D MacGregor MacDuff have a very concise guide to wearing a kilt correctly, you can find it here! Kilts aren't just for the fellas either, so don't be bound by society's 'norms' if your heart desires looking swish in your clan colours. Your wedding day is about the two of you, so wear whatever you damn well please :)
If you feel like you are somewhere in the middle of wanting a badass suit to a more traditional kilt, you can check out some tremendous styles at 21st Century Kilts or Highland Kilt Connections.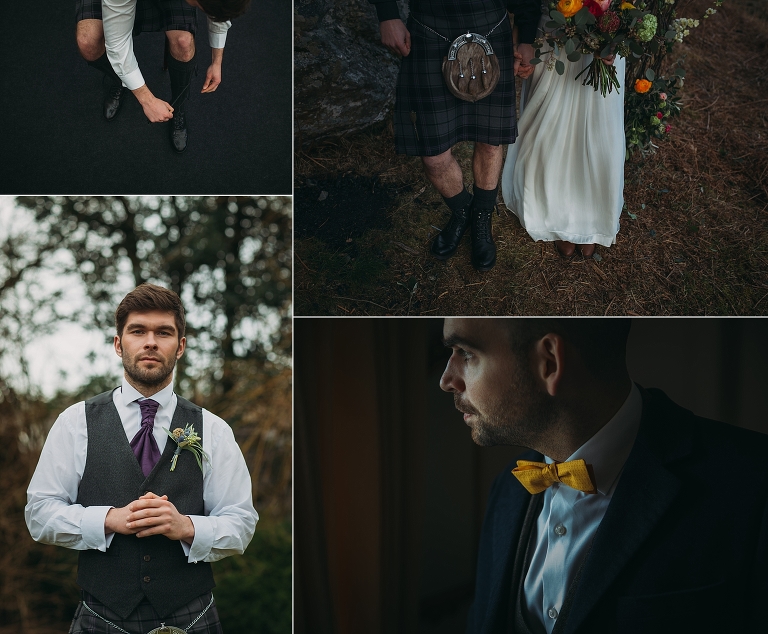 Thunderbirds are ready in 5, 4, 3, 2…
Finally! You are ready to go. You've got butterflies in your stomach and you bloomin cannot wait to see your other half and enjoy the rest of your day – YALDI! My next blog post will be alllll about giving you things to ponder when it comes to your ceremony timeline. Hope you enjoyed my ramblings  thus far, and ya'll come back y'hear? :D
xx
'Mon, take a dander through my blogs, it's what they are there for after all ;) Don't forget to check out the categories below too!