How to Plan Your Wedding (part 3) – Reception Timeline
The reception timeline. If you've been reading my other blog posts about how to plan the utter shiz out of your wedding day timeline, then this is the next piece of that delicious little puzzle. I've said it before and I'll say it again – planning a wedding is an incredibly new experience to a lot of couples – so the aim of this blog series is to give you free access to the inside scoop on making those timings tip to the top. So you've nailed your timings in the morning, the ceremony was an absolute breeze sooooo…what next? Next is your wedding reception timeline – that bit of time after the I Do's and before the dancin' yo :D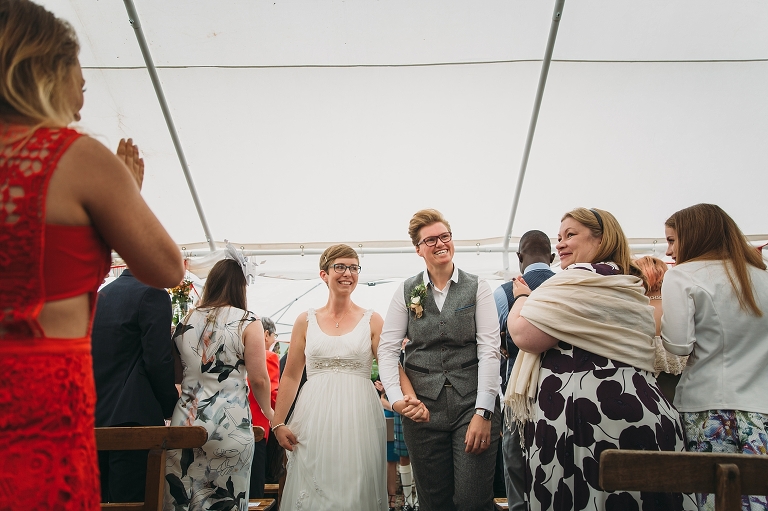 Best if I hit out with a cheeky wee disclaimer – this isn't a 'amma tell you do it THIS way or else', it's more of a 'yo, this ain't my first rodeo, so here's what I've learned works quite peachy y'know?' As ever, I've asked some of the coolest cats in the wedding industry to give me their thoughts too, this time up it's the awesome wedding venue that is Sloans, so without further ado, let's take this reception timeline and make it our beeeeeyatch :D
1. "This is true love, you think this happens every day?" – Westley, The Princess Bride
AW YEAH BUDDY! You guys did it! You are legit, 100% married, that's goddam awesome! If I could, I'd be clapping like a happy seal, but then I wouldn't be typing, so I kinda have to make a choice…ok I'm clapping in my head. YALDI MAN! I truly believe there is something very important that has to happen next. More important than anything else that could happen in that moment. Wanna know what it is?
You should hug each other, have that 'we did it!' moment and then hug some of your guests :) If you thought I was going to say 'come for photographs!' then you are sadly wrong. Man, have that moment, enjoy it – you don't get it back :)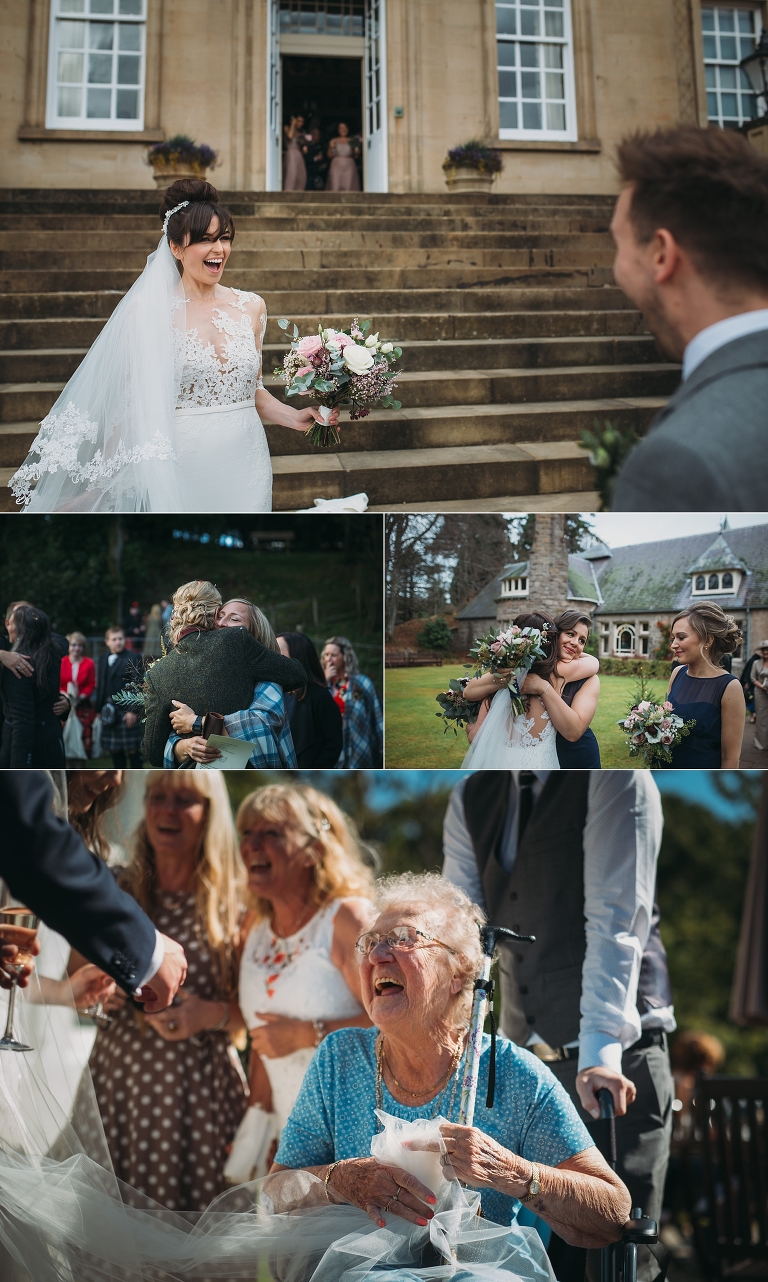 At this point, you'll have a set amount of time in which to mingle with your guests, perhaps eat some canapes (or caNAPS as I like to call them, please say the bit in capitals rather exuberantly), have formal family photographs taken if you've asked for them and chill before you sit down for your meal. As a photographer, here is generally what I am looking to photograph during your reception timeline;
-candid photographs of you/your guests having a hoorah good time (high fives and fist bumps welcomed)
-your family formal/group shots (those family lineup ones, know the ones I mean?)
-the table details that you have perhaps spent time bringing to life from pinterest
-photographs of you two together, away from your guests (ADVENTUUUUURE!)
Interestingly (for me anyway!), that's more things than at any other point of the day, in a shorter space of time comparatively. That wee dinky slot between your ceremony ending and you sitting down for dinner can be quite fast paced for a photographer. So how would you get the most out of me during that time?
It might be easier if I break this down a little and give you an insight into how I approach your reception timeline. Before the wedding day, I make sure I know errrr damn thing I need to know in terms of your timings. From there, I geek out and plan. Looking at your ceremony time, I make a fairly generous allowance for when it could finish. I then look at the time you've told me that you will be sitting down for your meal. If that's 2 hours, I run out my flat, I knock all the other doors and when they answer, I high five my neighbours with no explanation and then scuttle back indoors. If it's more like an hour and a half, I'll probably pen them a fancy letter that upon opening says nothing more than 'this could work!'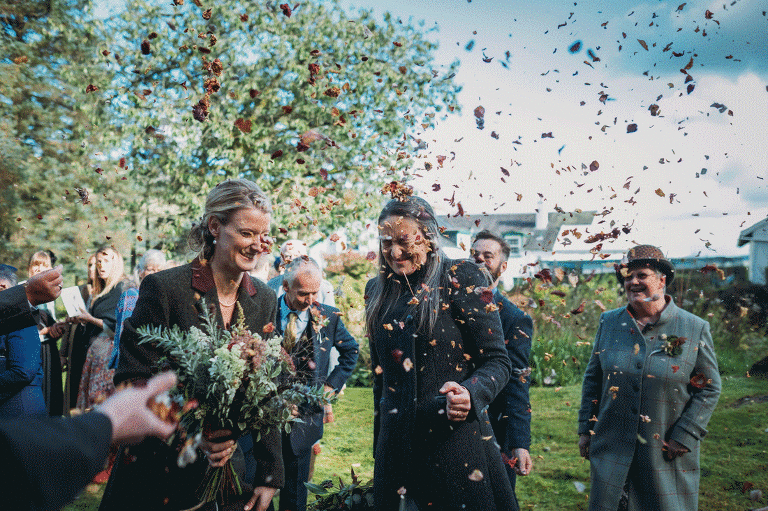 But what can affect that wee nugget of timing for you, that 1.5-2 hours of your reception timeline? Here's a list of things you might want to consider;
Travel – are you getting hitched somewhere other than your reception venue? You can check out my previous blog for a few wee handy tips on travel that could help with this part of your day. If you're not, nae bother man, let's party! If you are? Best to be generous with your travel time than make it too tight, y'getme?
Your family group shots – as a rule of thumb, 6-8 group shots will take me around a half hour, providing everyone is there when I need them :D I tend to gather everyone on my list (which has been pre-agreed with my couples) so that the group shots move nice and quickly – meaning you get to go back to your guests sooner. If your heart is set on having 10-12, this ain't no problem, we just need to make sure you have allowed for that in your reception timeline. The last thing you want is to feel rushed because you've asked for over 6 – 8 family shots, but only allowed a 20 minute window for it :-O In terms of where we might do those group shots? FUGGEDABOUTIT, you don't need to worry about that, that's my job to figure it out for you – of course if you have an idea then holler at me, I'm all ears :)
Light – Again, this is something I tend to think about on your wedding day, but it doesn't hurt for you to have an insight into that. Say for example you're having a winter wedding, with a late ceremony at 3pm. The sun may set around 4pm, so if you are wanting your group shots and newlyweds photographs outside, we are going to need to get a wiggle on to make sure we can do all of that before the light disappears for the day. Normally in a circumstance like that, I'd suggest we do your newlyweds shoot first, then come back and do your group shots inside with flash –  but again that timing will be mega tight if you've not been generous with your reception timeline. I've said it once and I'll say it again – it's really important to me that you have a nice relaxed time of it, so I don't want to be the one rushing you through things :) I could go on about light until the cows come home – so I'm going to touch on this subject again a little later in this post :)
Weather – With all this in mind, weather also wants to wade in and have an opinion – urgh weather, you're so ruuuuuude. We are at the mercy of all seasons in one day in Scotland, but would we have it any other way? I really believe that weather does not make or break a wedding day – I mean, it's still going to be amazing regardless of whether it rains or not, fact. That being said, I do think it is my job to be aware of the weather, and for that I use a handy wee app called Dark Sky. It has so far proven to be pretty goddam accurate in terms of the weather, even giving me a good idea of when it's about to rain. It also tells me when sunset is – damn, I love to know when sunset is haha!
In June 2016 I photographed the lovely Danielle and Tom's wedding at Cottiers, and they were particularly keen to venture up to the top of Gardner Street as there is a rather 'gid view of the city from there. I checked dark sky over dinner, knew when the sunset was but could also see that it was due to rain a half hour before that time. What does this mean Jo, tell us what this all means?! It means that although I took brollies, I was confident that I could get Danielle and Tom up to Gardner Street and back down without getting them wet :D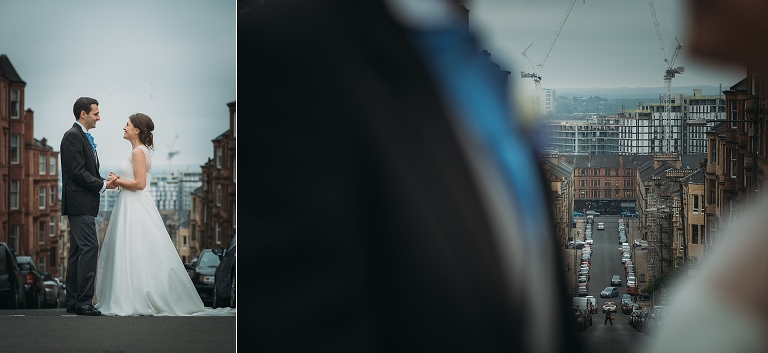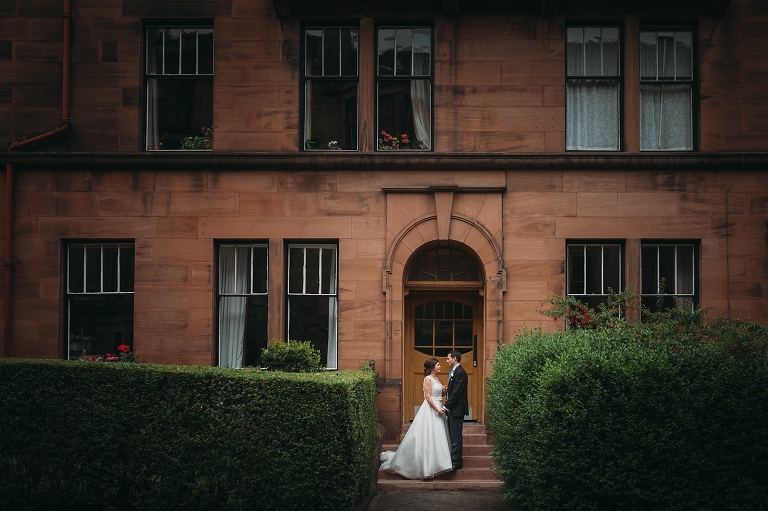 But hey – rain actually makes for some pretty sweeeeet photographs too ;)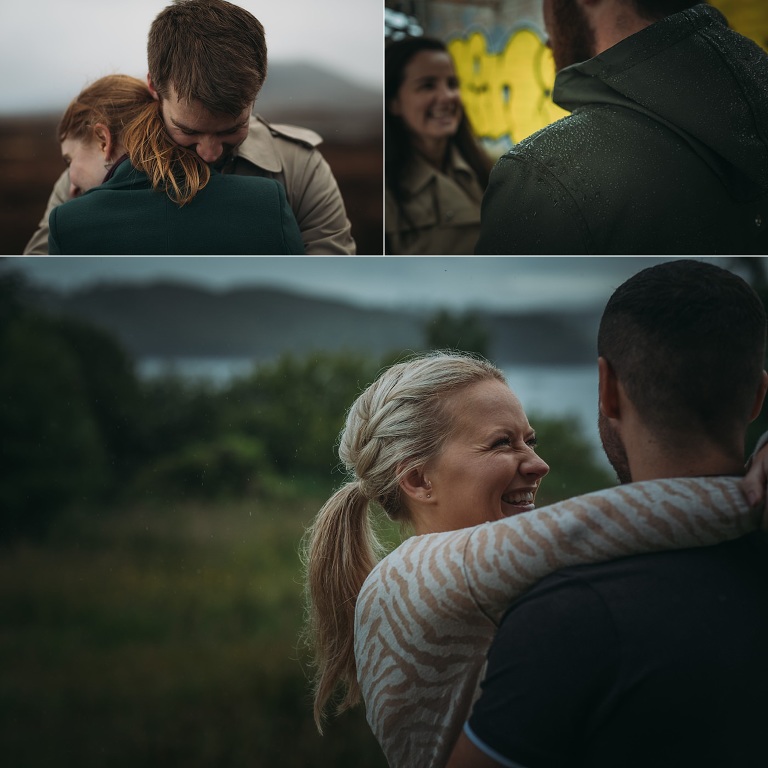 Rest assured, getting this part of your day is really down to your photographer – and you shouldn't need to worry about it, but by having an understanding of my own thought process at that time and then doing a bit of planning before hand it you'll find your reception timeline to be a thing of beauty, resplendent in it's glory and an all round wonderful experience :D
3. "60% of the time, it works every time" – Brian Fantana
So what do venues have to say about your reception timeline? Sloans is Glasgows oldest bar/restaurant, situated in the heart of the city centre. Set over three floors, it's atmospheric, full of history and gorgeous decor and is quite frankly, a pretty awesome place for a quirky wedding – I've said it once and I'll say it again, it's one of my favourite Glasgow city venues, it's a belter! The lovely Becca is the Events & Booking Manager and knows her shiz when it comes to planning a right gid wedding;
"At Sloans we like to meet with our couples as often as they like, for some this may mean a cuppa every ​few months, and for other just once around 8 weeks to go to their big day!"
If you are the latter – you should absolutely make a point of going in for the Mac 'n' Cheese alone. It was sent here by the gods, and you should respect that. Pahaha!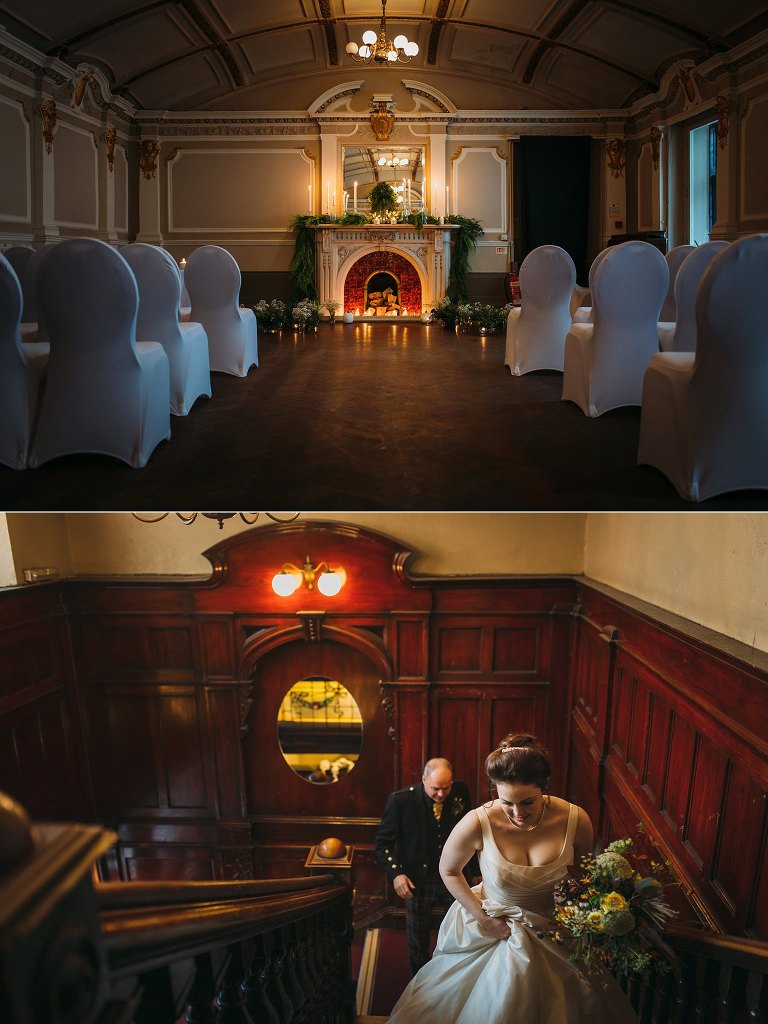 "We always use a couples ceremony time as a guide to map out the rest of their day. Generally, a ceremony may last around 30-40 minutes. From there, we like to allocate 2 hours for the reception timeline – we like our couples to chill, have a drink and hang with their guests and this is also a perfect amount of time for our team to turn around the rooms ready for dinner! It's important to us to liaise with your photographer to make sure we know when you will be off getting photographs taken, and we'll usually have a good idea of how long they need to get those all important shots."
Oh Becca girl, you GET me with that 2 hour slot for the reception timeline yo ;)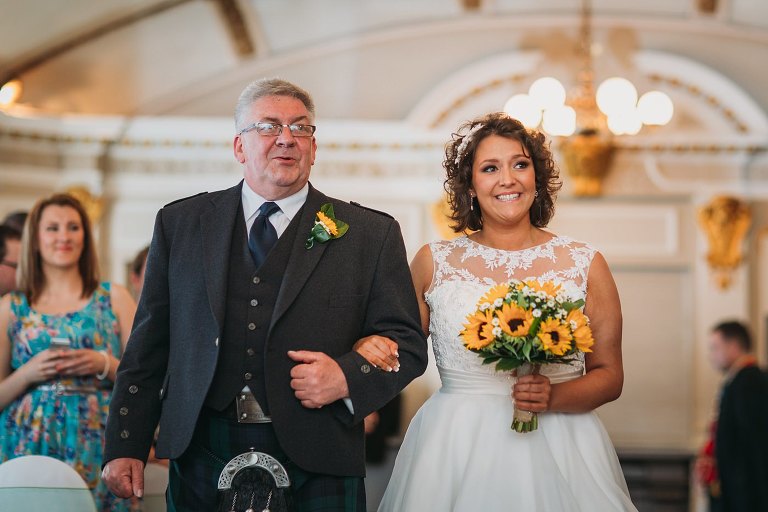 "We've found that dinner for around 80-100 people, with speeches usually takes around 2 hours again, depending how quickly your granny can finish her soup. But our soup is tops, so we don't rush that ;) From there, the evening shindig usually commences around 7:30/8pm with your cake cuttings & first dance – once this is finished the night is yours!"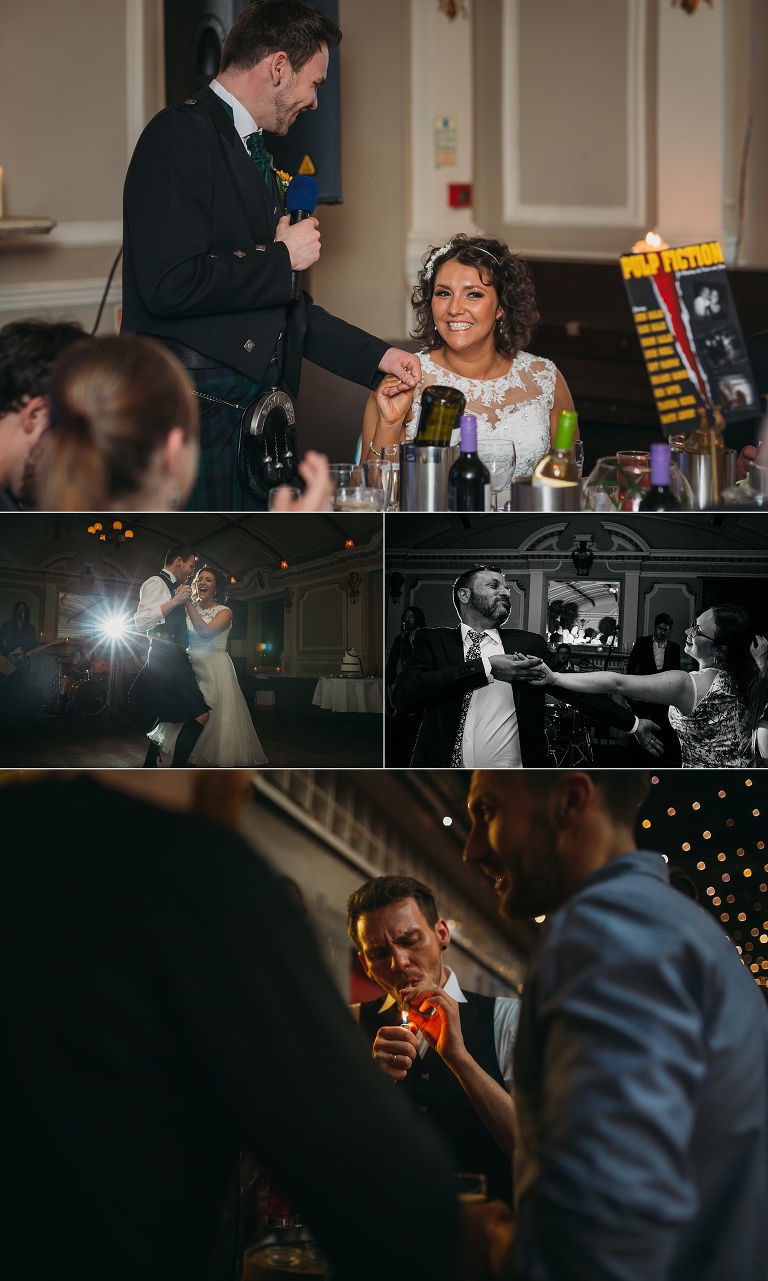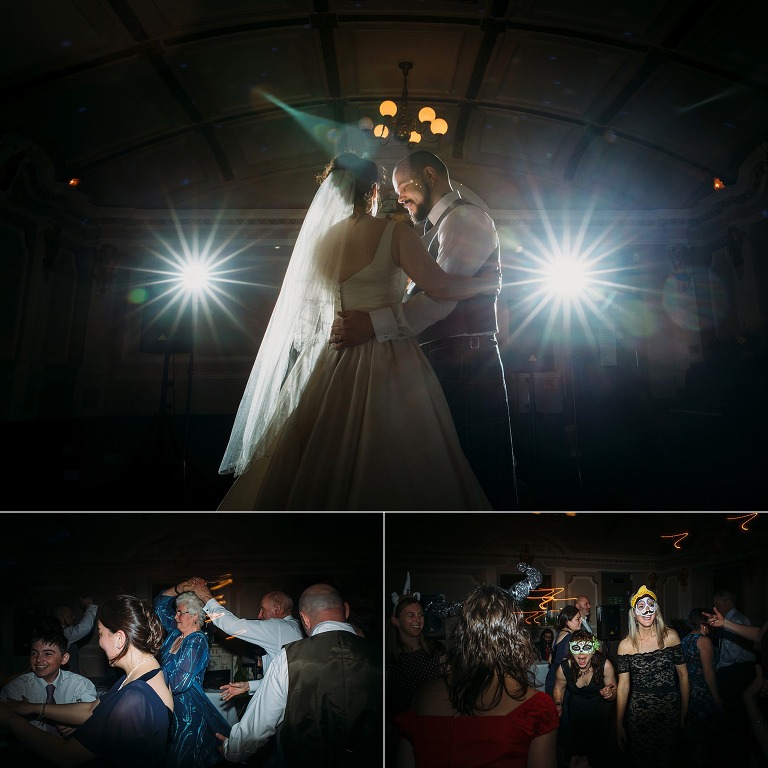 One of the things I love most about Sloans is that they take a laid back approach to the day – no fuss, no stress for their couples and their guests. Most importantly though – the reason they can do this is because they make sure beforehand that they have an excellent timeline in place for their couples. I love that, their way of working makes complete sense to me :)
You can catch Sloans via their website, facebook and insta. Did I mention their food? Do it man, you won't regret it!
4. "Eventually ah let ontae it was the clocks. Going forward. One hour. British Summer Time. It wisnae even warm. Ah wis still wearin' a jacket" – Spud, T2 Trainspotting
A question I get asked quite  lot is "what time should we get married?"-  I'm never going to make that decision for you, but hopefully the next wee bit will help you reach a sound decision on the matter :)
I really feel that your ceremony timeline, potential daylight hours and your reception time are all linked into one. A huge part of my approach to your day involves keeping an eye on the light (those clocks are a changin' awww the time man!). In fact, I always have an idea of when the sun is due to set on any day – slightly sad, but incredibly useful knowledge for a photographer :D insider knowledge alert – my first check ahead of your wedding is usually here for sunset times, but I also use a fab app called Photo Pills to help me plan for any shoot. As I mentioned above, in the winter months we have a fewer daylight hours to play with, so if you are hoping for some natural light (as in no flash being used) for your newlyweds portraits after your ceremony (advennnttuuuureee!) then you may want to opt for a slightly earlier ceremony – even a 1.30pm ceremony for a 4pm sunset can give you that extra wiggle room to play with potential daylight on the day.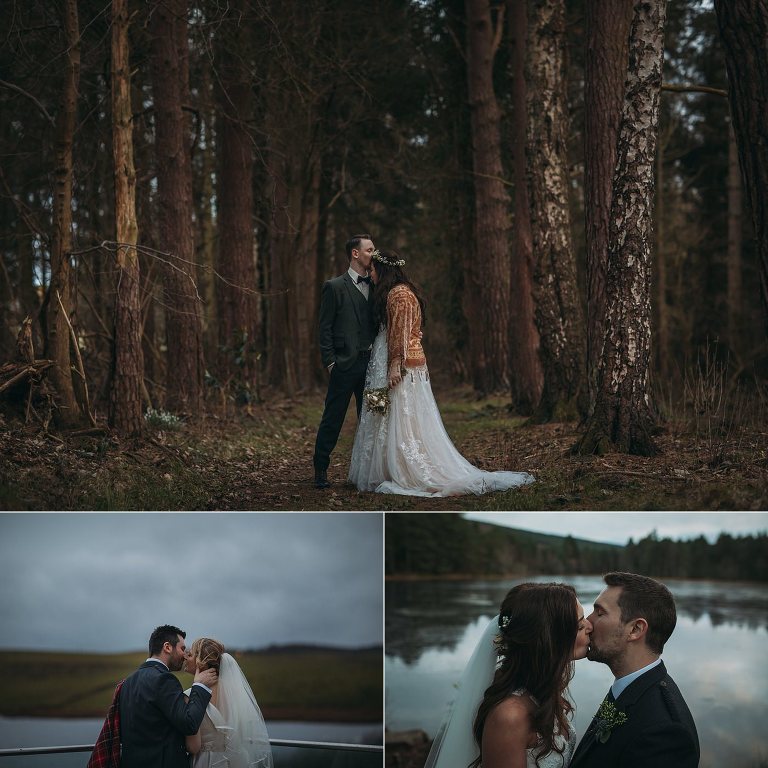 examples of light during the winter months
Your venue will of course have a good idea of how they timeline a wedding at any time of the year, but not-so-controversially you can question this if your heart desires. Perhaps they have suggested a 3pm ceremony, but you've checked and the sun sets at 4pm…but you'd quite like some photographs after your ceremony (in daylight) – it's your wedding, so it's worth challenging. A good photographer will be on hand to chat about this, but will also be able to use flash creatively should you decide that daylight hours aren't a priority for you and your spouse.
Of course if you are having a Spring/Summer wedding, you have longer daylight hours to play with, but you also have the potential of particularly harsh light for an outdoor ceremony in the middle of the day – in this case, opting for a later ceremony (2pm or after) can potentially mean that the sun has dropped a little bit lower and is therefore a little bit softer :) Ultimately the decision is yours, and about what you want for your day. All of the above can definitely be used as a guide, but don't be afraid to ask for thoughts from your light chasing photographer :)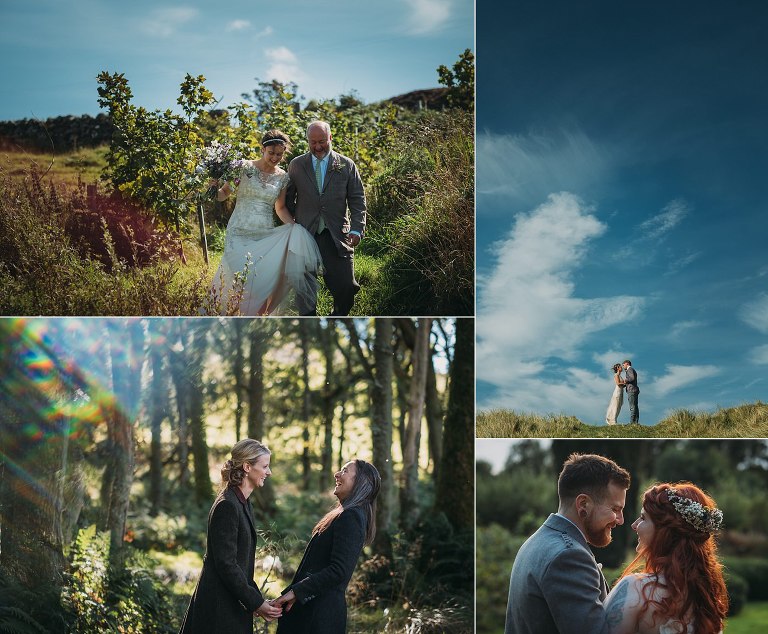 examples of weddings with bright sunshine
Sometimes with spring/summer weddings, I'll even push your newlyweds portraits back a little, goddam it I love that soft golden light! While there is never any guarantee of golden light happening on your wedding day (oh haiii Scotland) – you ain't ever going to regret chasing it if it does happen :)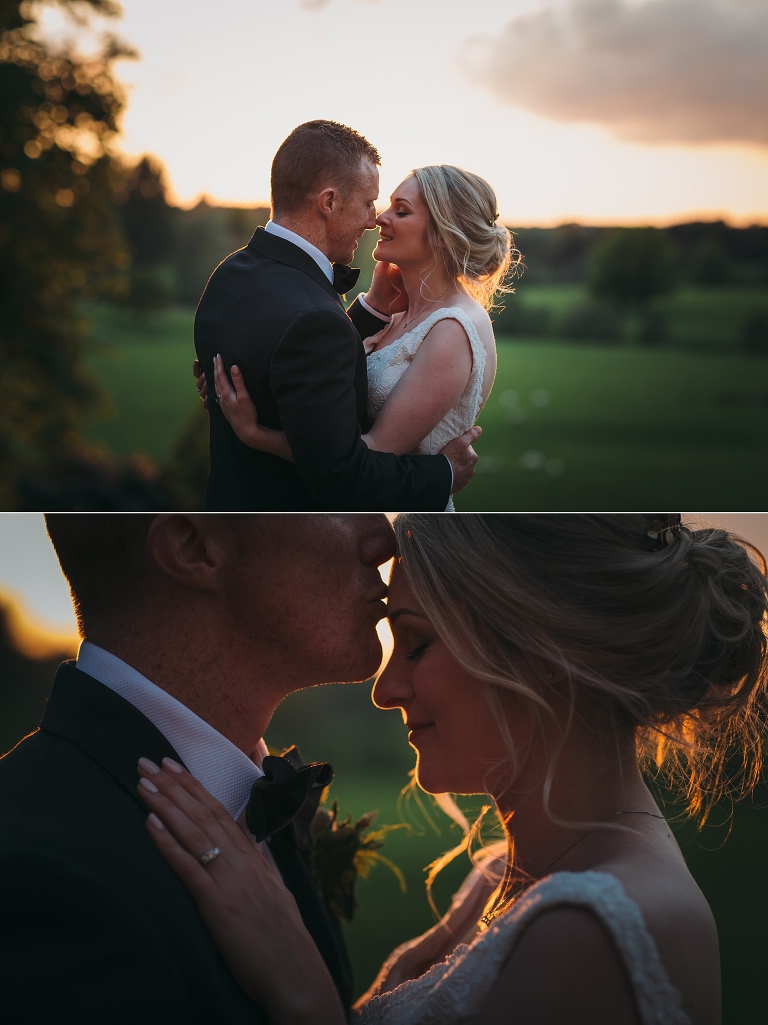 So there you have it. A miraculous journey so far that leads us from your preparations in the morning, to the magic that is your ceremony and right through to your reception timeline. Hopefully you are starting to see how smart planning prior to your wedding day can result in a super chilled wedding. So what the heck is left? THE PARTY YO – and how to make your final shindig an absolute belter of a hootenanny :D
I hope you've found this helpful so far, and ya'll come back now y'hear? ;D xx
'Mon, take a dander through my blogs, it's what they are there for after all ;) Don't forget to check out the categories below too!