Bridal Inspiration | 10 Style Ideas with a Difference
Bridal inspiration with a difference… We've seen a fair few weddings now, and one of the things we loooooove is how our ladies put their shiz together for their wedding adventure. It's amazing – all the little bits and pieces, seeing the final result on the day is always most excellent. But what if you're a bit stuck about what to wear? Hopefully this blog post will give you some unique bridal inspiration of your own – and help you realise that if a white dress is for you, brilliant! But if it's not? That is goddam ok too – you do you bebs.  We've pulled together 10 kick-ass styles with a variety of budgets and styles in mind, from dresses to suits to two pieces – so in no particular order, let's do this!
1.  F L O S S Y  &  D O S S Y 
First up is one of our favourite Scottish wedding suppliers – Flossy & Dossy. In fact, Wendy from Flossy & Dossy is also my Mam's favourite wedding dress designer too – and my Mam knows her stuff so she does :D Based in Glasgow, Wendy is inspired by vintage fashion and style. Her dresses are legit beaut – I mean, just check out that buttermilk silk with the gold overlace – swoooon! So if you are looking for a truly bespoke piece and experience with a bloomin' lovely lady, I think she might be just the ticket. Wendy can also be found over or instagram or facebook – woohoo!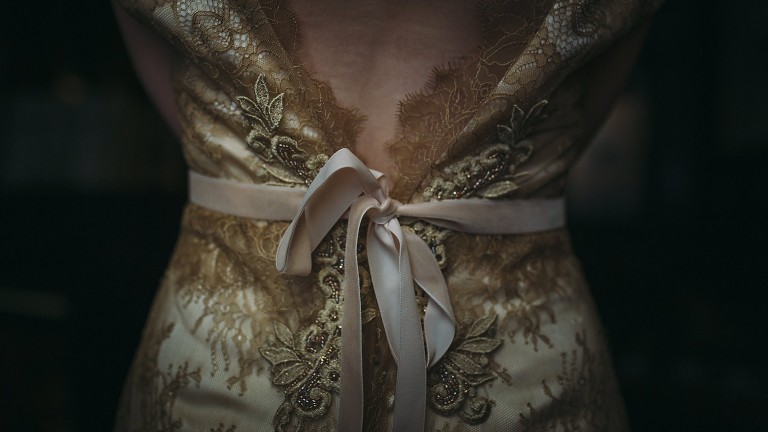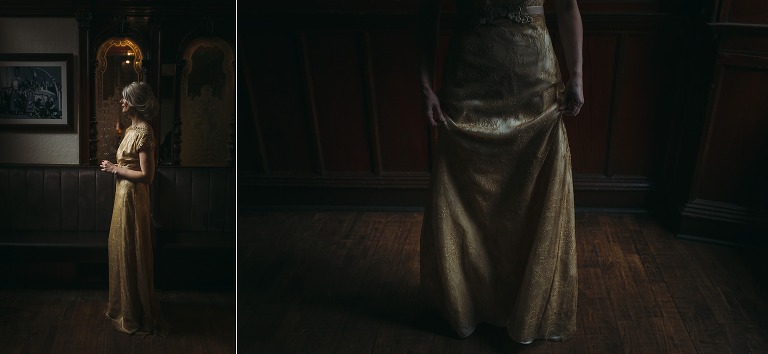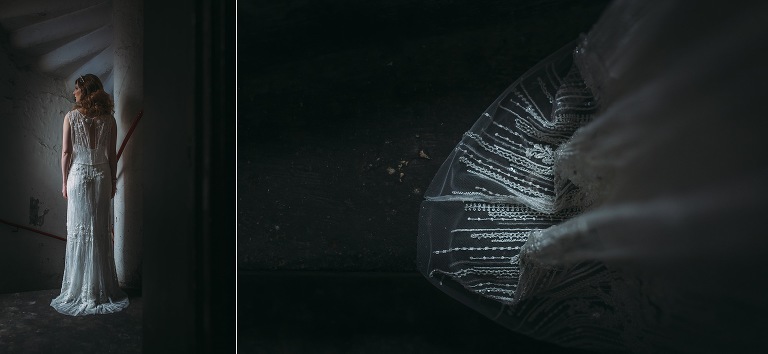 2.  A L E X  V E I L 
'Designed with passion, made with love' is Alex Veil's motto and it's a good un! We were introduced to our first Alex Veil dress by Taysia for her Lochinver Scottish elopement and if this isn't bridal inspiration with a difference for those highland adventures, we don't know what is! The way the wind picked up the layers was goddam amazing :D And on top of that – you can have an utterly enchanting dress without breaking the bank.  You can also find Alex Veil on instagram and facebook. Happy hunting!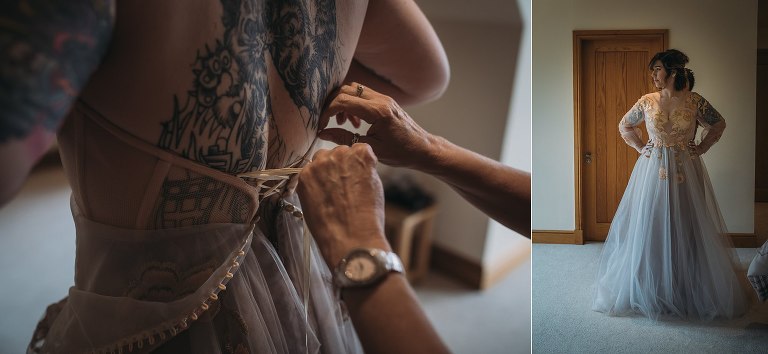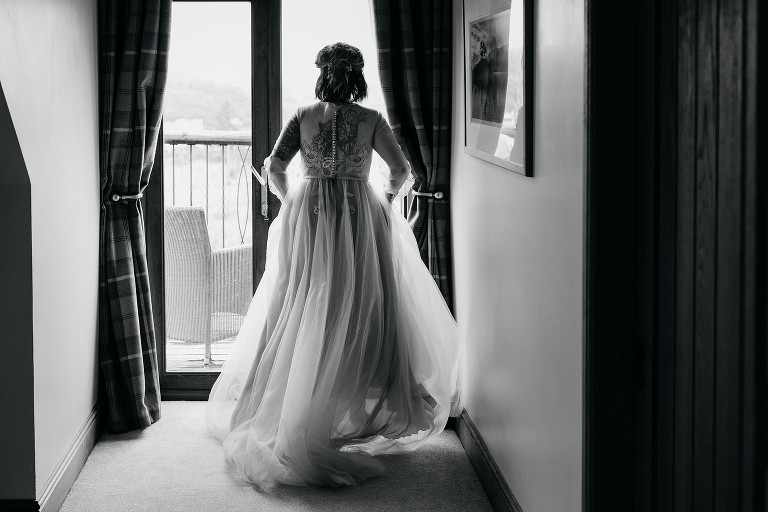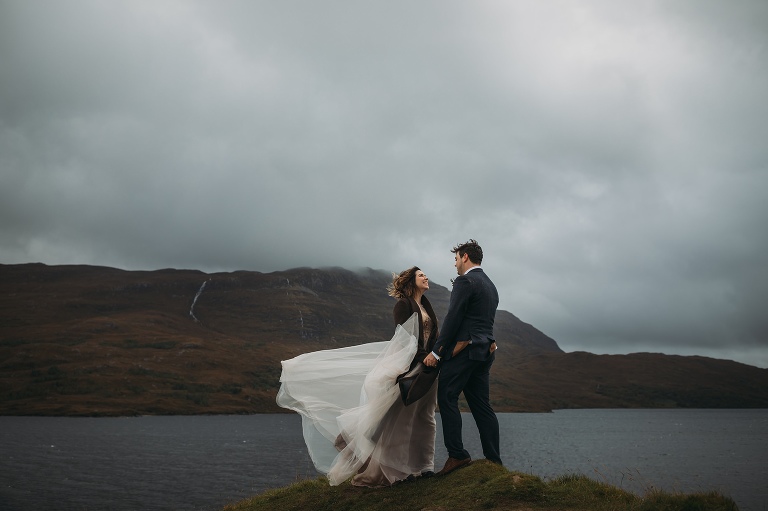 3.  J E S U S  P E I R O
Jesus Peiro pride themselves on having an elegant and refined style – with touches of romanticism. Natalie's dress in particular stole our hearts last year. A white and pink lace two piece with a high neck and the option for a semi sweetheart neckline and bare shoulders, it was a bit of a showstopper! If you are in Glasgow Jesus Peiro can be found in Eleganza Sposa – I've seen a few of their other pieces which are just as stunning as this one. Jesus Peiro can also be found on their instagram. Natalie had this to say;
"I've been thinking about my dress and I can't tell you exactly why I picked it, other than as soon as I put it on I LOVED it. I had no idea what kind of dress I wanted, except something a bit different, but I wasn't sure what that different was. Turns out 'different' was Jesus Peiro. I also loved the idea of being able to clash dark nails and flowers with the pink. Really, I just wanted a dress that I felt me in, and not as if I was playing fancy dress as a bride."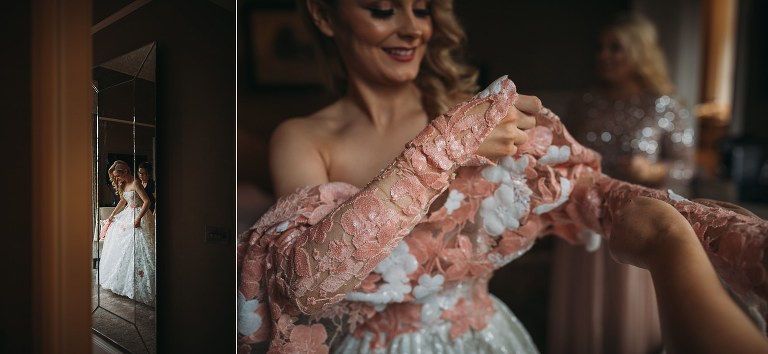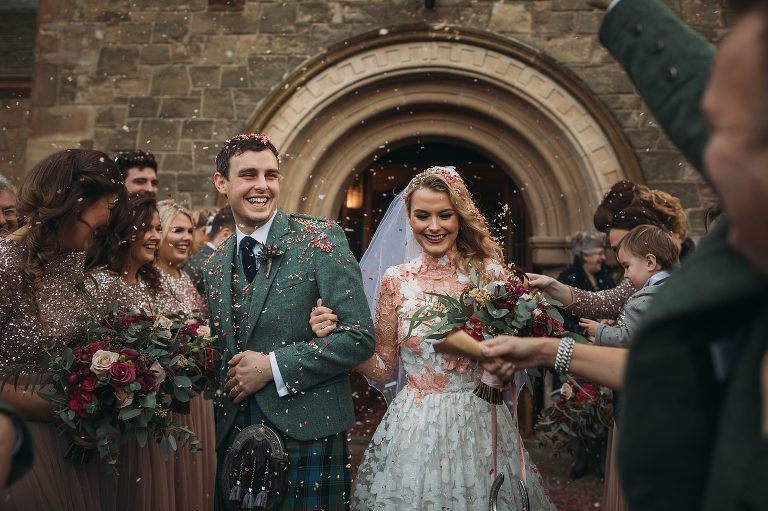 4.  D R I E S  V A N  N O T E N 
Kim and April eloped to Edinburgh from Hong Kong, and both agreed early on that their main splurge as far as bridal inspiration would be in the form of these kick-ass Dries Van Noten jackets. Urgh, how cool do they look man! Teaming them with accessories from Prada and Carven and topping it with fantastic nail rings by Cartier they 100% smashed effortless city style. We goddam loved their take on wearing whatever the heck you want to your wedding day – YUS LADIES :D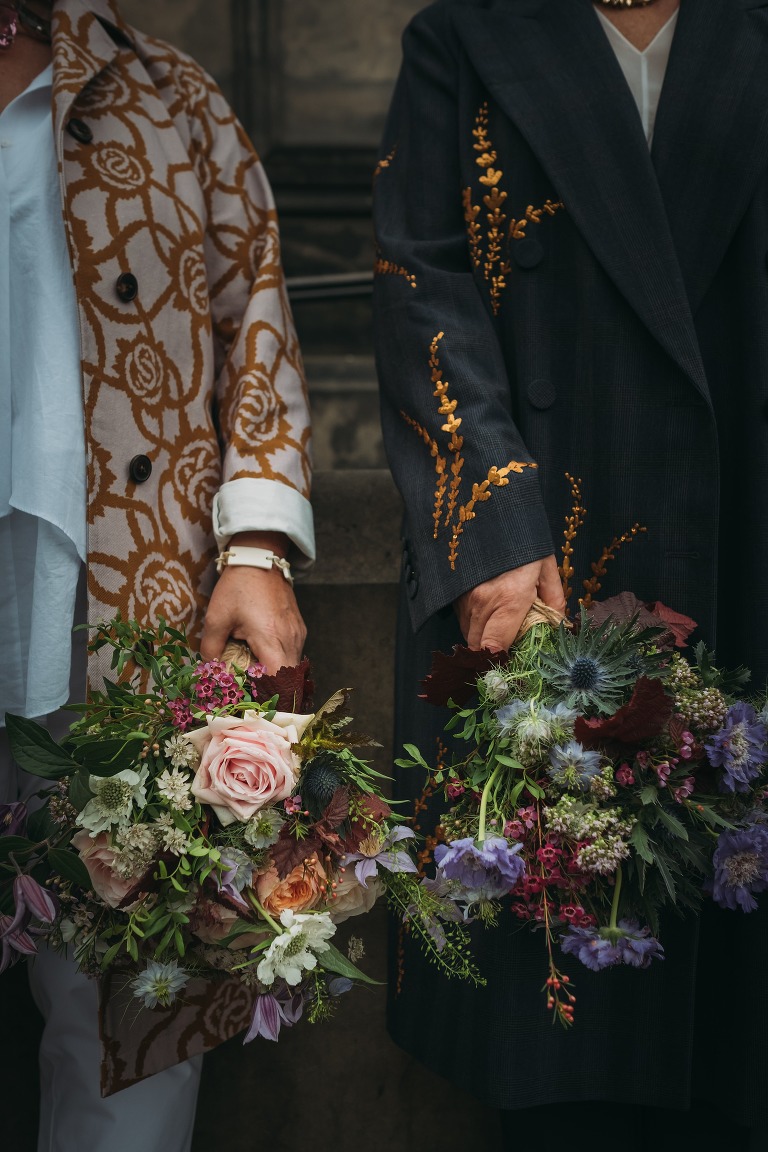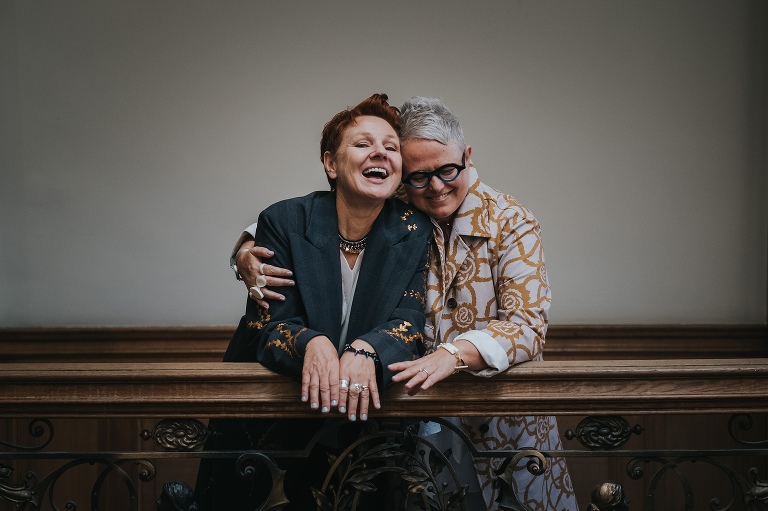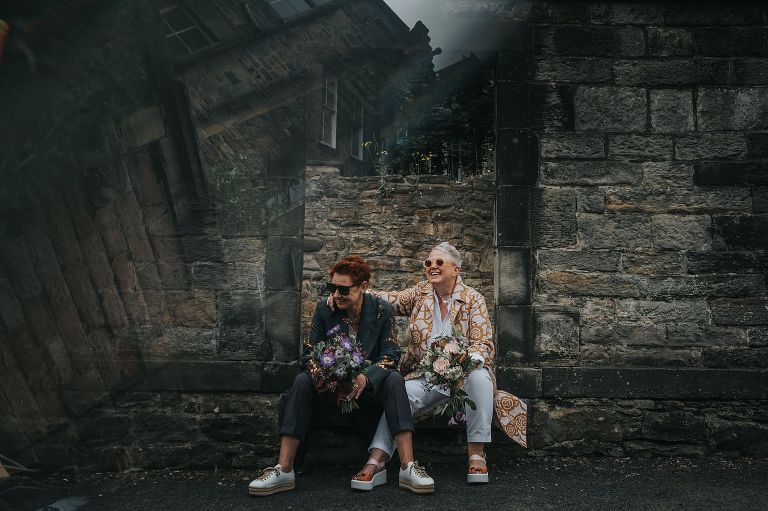 5.  M A G G I E  M C A L L I S T E R
Based in Cumbernauld, Maggie McAllister makes some crazy amazing dresses. So if your looking for unique bridal inspiration in a bold colour – just check out this red couture stunner of a dress, complete with the most beautiful fascinator. Emma stopped traffic, and her now-husband Richard in this work of art. You can find Maggie McAllister on her website or facebook.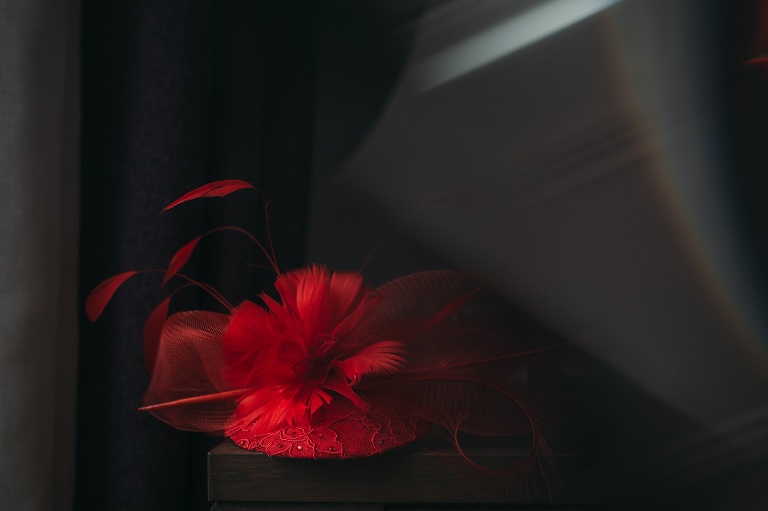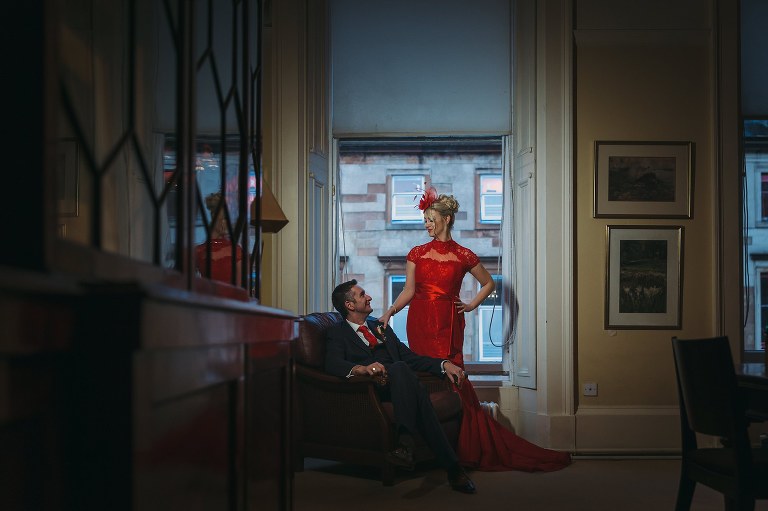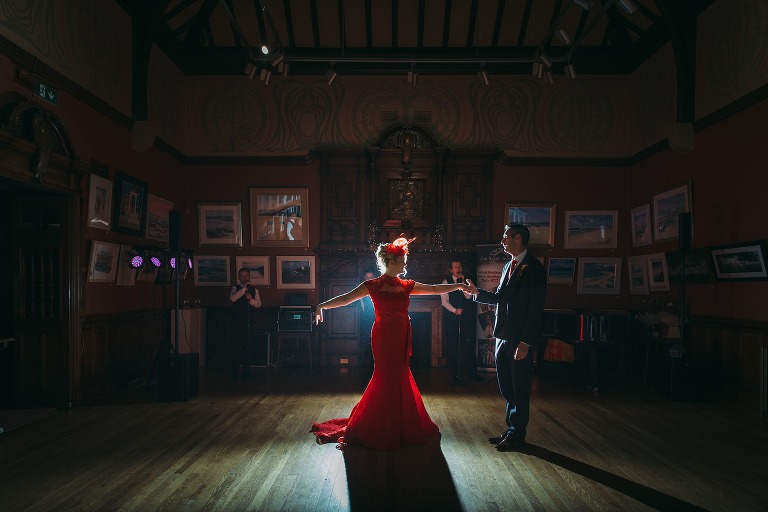 6.  T E D  B A K E R
It's difficult to choose one thing that we loved about Carrie's bridal inspiration so we will list them all! She pulled off smart casual with a wedding twist – and we loved it even more that her suit was from the mens section of Ted Baker. As women, why should we feel bound by wearing clothes from 'our department'? Preferring the cut and fit of a mens suit, Carrie also opted for some goddam brilliant personalised leather braces, you can find similar ones here. Love, love, LOVE.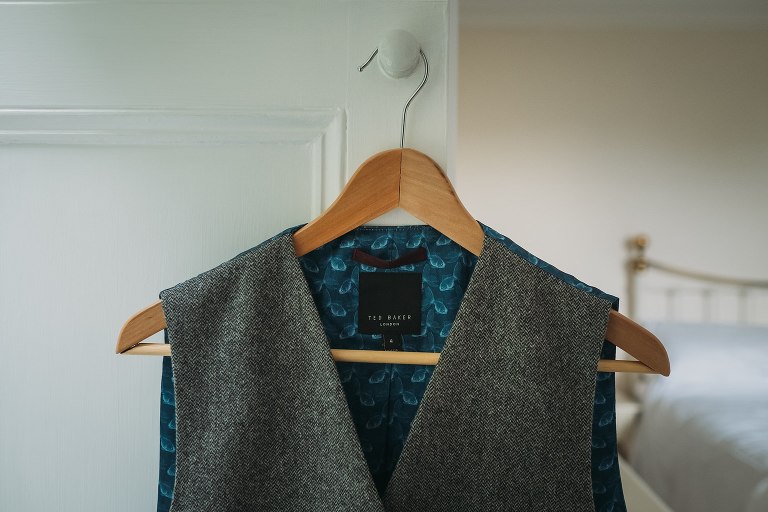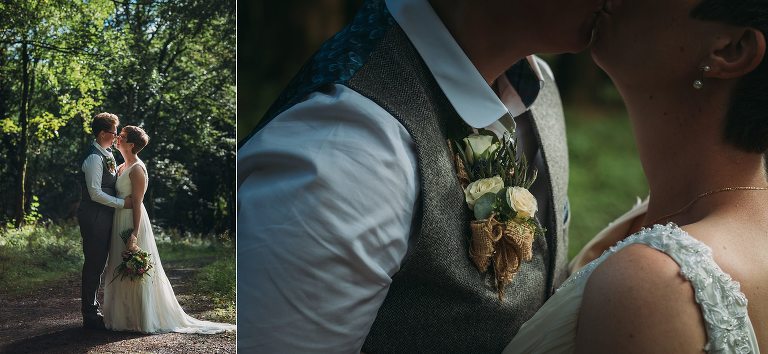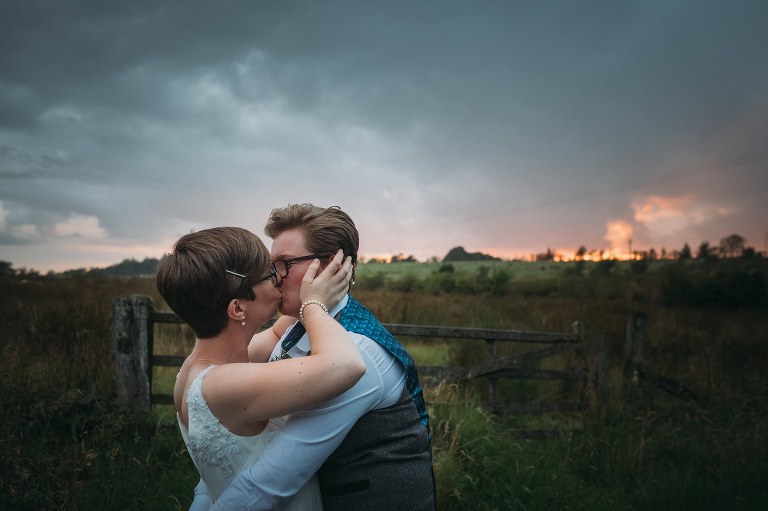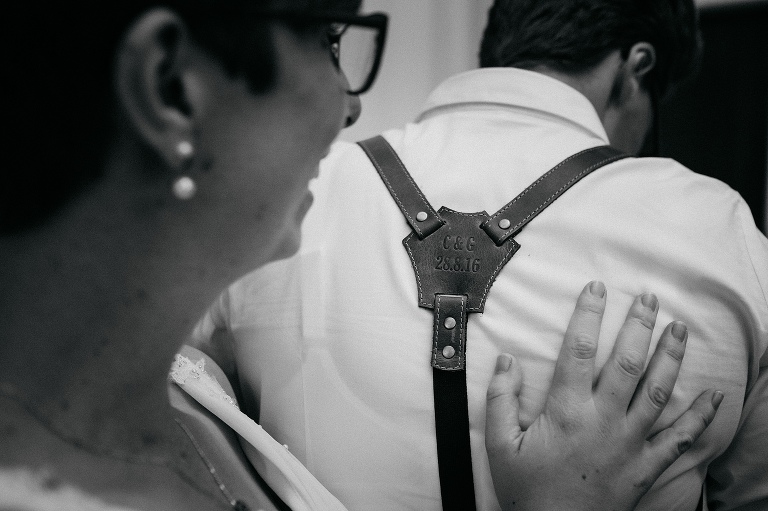 7.  N E E D L E  &  T H R E A D
Needle & Thread specialise in beaut adorned pieces with a crazy flair for intricate beading and detail. I think their pieces are perfect for the carefree, boho bride. Julie wore her N&T dress to perfection, teaming it with gold gladiator sandals, a floral headpiece and a vegan-friendly leather jacket – SLAY JULIE, SLAY! Not only is their bridal collection absolutely gorgeous, I definitely think their collection of evening dresses would make the perfect wedding dress – definitely worth a look if you are looking for something slim line and elegant with lots of embellishment :) You can find Needle & Thread on their website (linked above), their instagram and facebook. as well as their pinterest – happy pinning!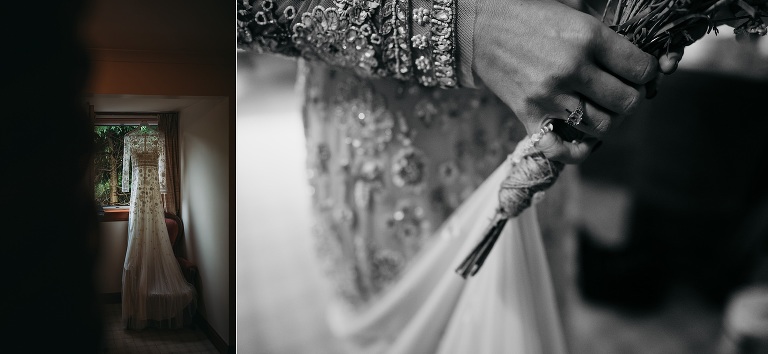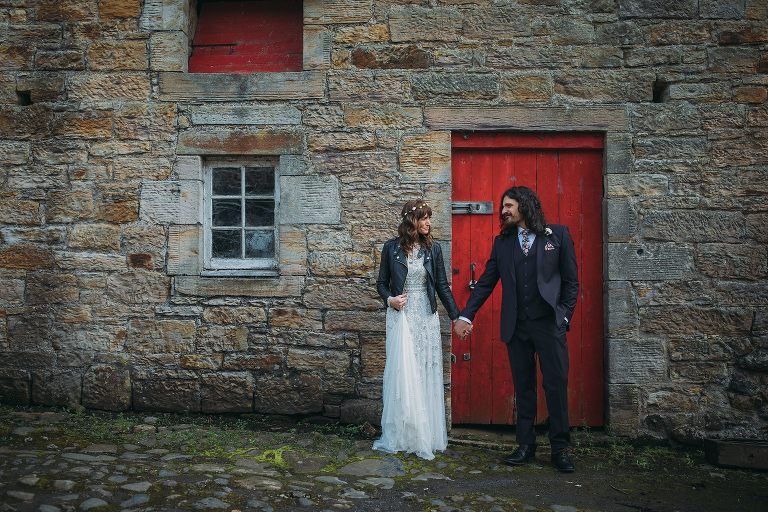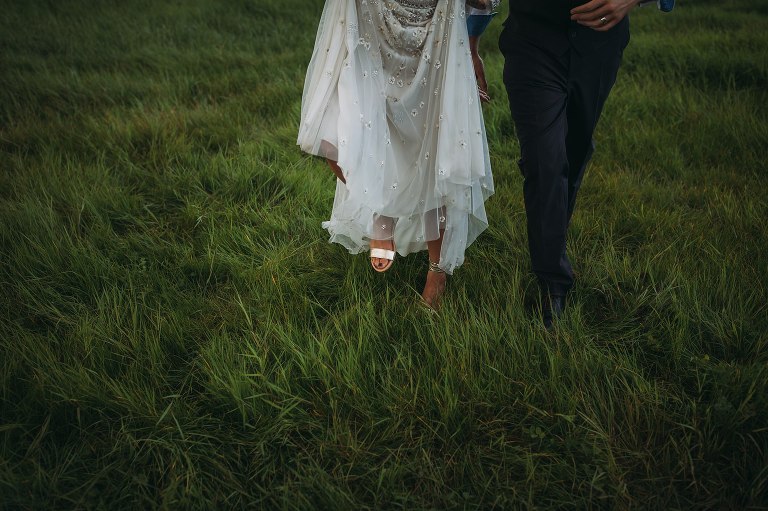 8.  A S O S  &  W A R E H O U S E 
Tracy and Linda nailed their chilled Sloans wedding right through to what they wore on the day. Traditional white didn't feel very 'them', they had this to say about their bridal inspiration;
"I feel like people get caught up in spending a fortune on the dress etc, which is great if that's what you want to do, but there are plenty of alternatives. We definitely wanted something a bit different for our outfits as we didn't think the more traditional white suited us or how we wanted the day to feel."
Tracy decided on this beaut ASOS suit with a Reiss top & gold Dune brogues. Love a pair of brogues man! Linda opted for a Warehouse dress which she also found on ASOS and kicked it up a notch with a pair of Jimmy Choo's and a Mint Velvet jacket from Frasers. They had this advice or brides looking at High Street brands for their wedding day;
"The one thing we did do was go to one of the alteration/tailor places in town and get both our outfits adjusted slightly. Was definitely worth doing as they felt like they were made for us and cost very little too"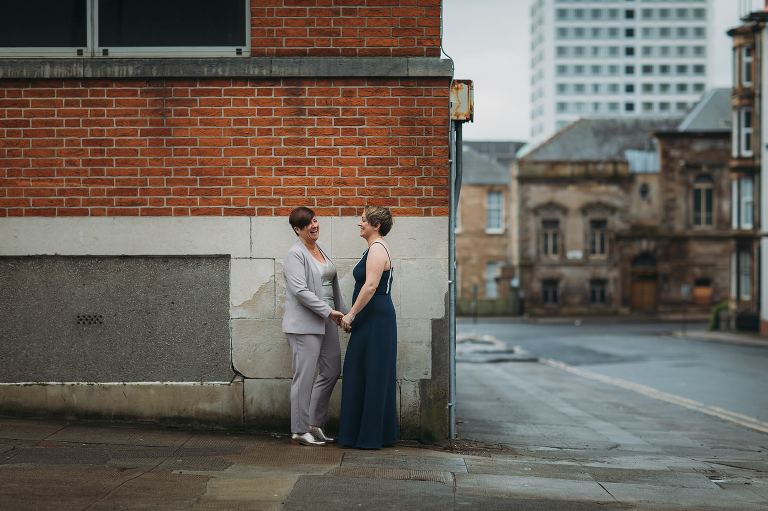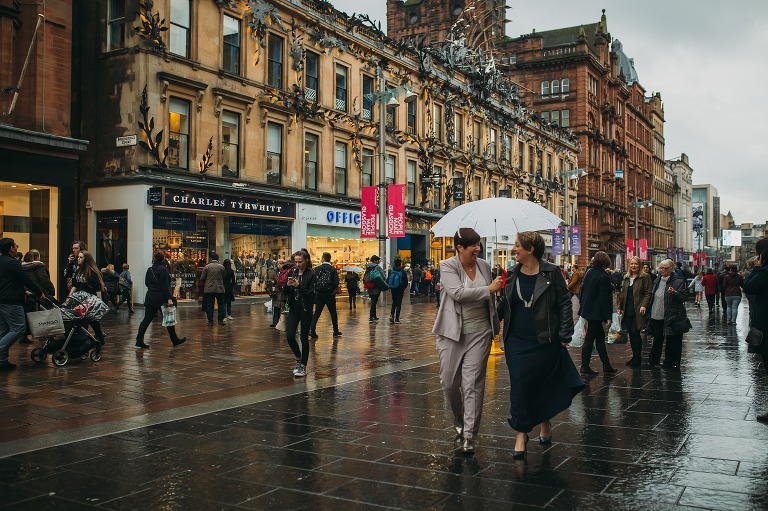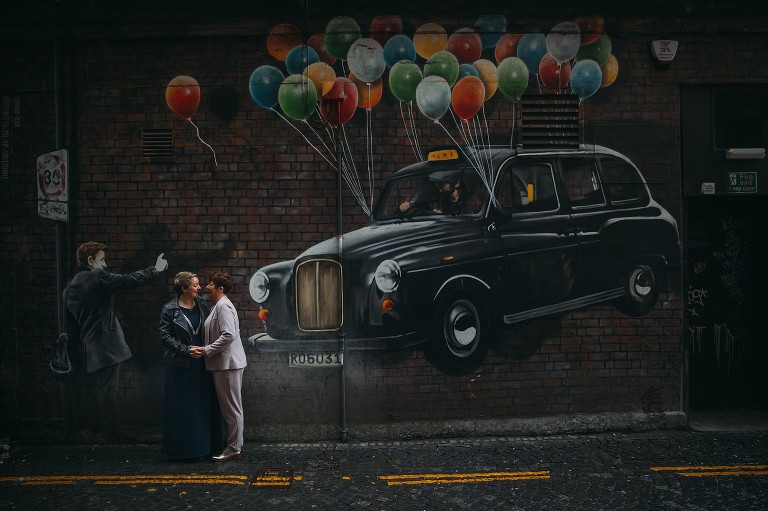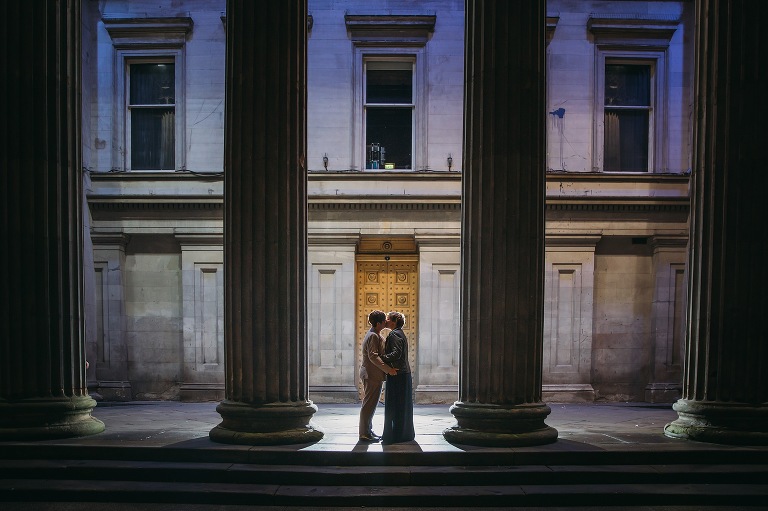 9 .  C H O T R O N E T T E 
Man, it feel like we have been drooling over Chotronette's epic creations for quite some time now, so we were over the moo when Dianna told us she had opted for this cream dress with heather coloured embroidered flowers.  As if that wasn't enough, she then teamed it with the sweetest little pair of antlers by Hysteria Machine for her Middle Earth inspired Scottish elopement. Words fail us when it comes to their beautiful creations, so you should definitely head over to their website and see for yourself :-O
Dianna and Nathan were also featured over on Rock n Roll Bride, your one stop shop for couples who go against tradition.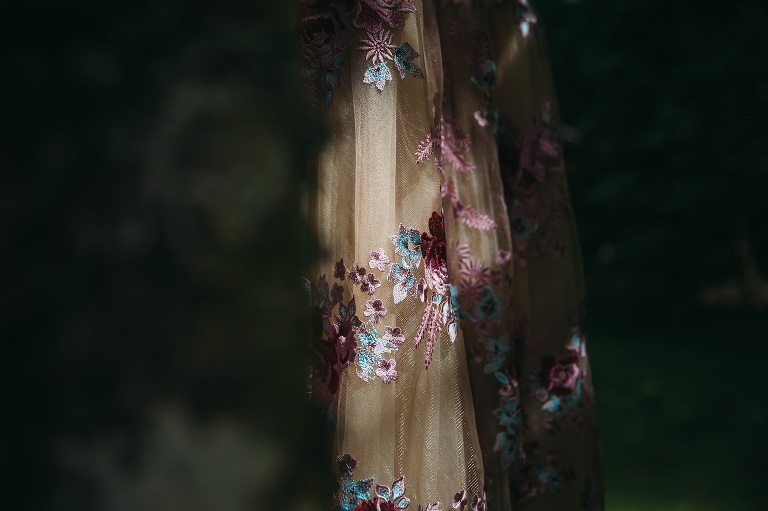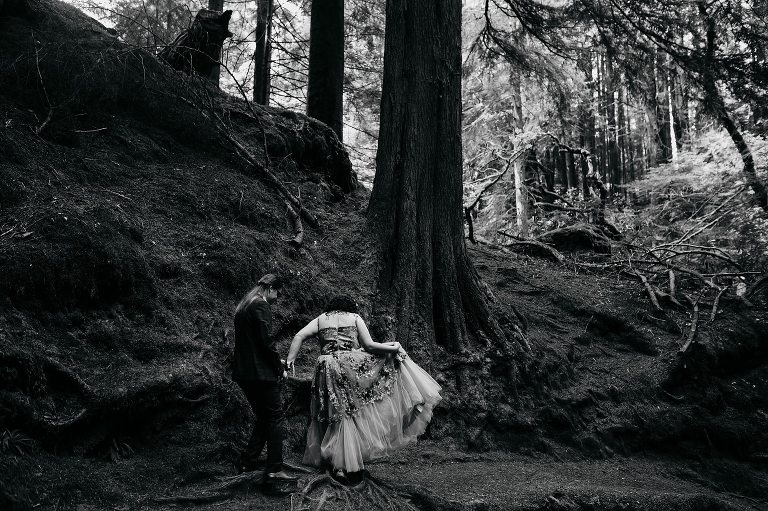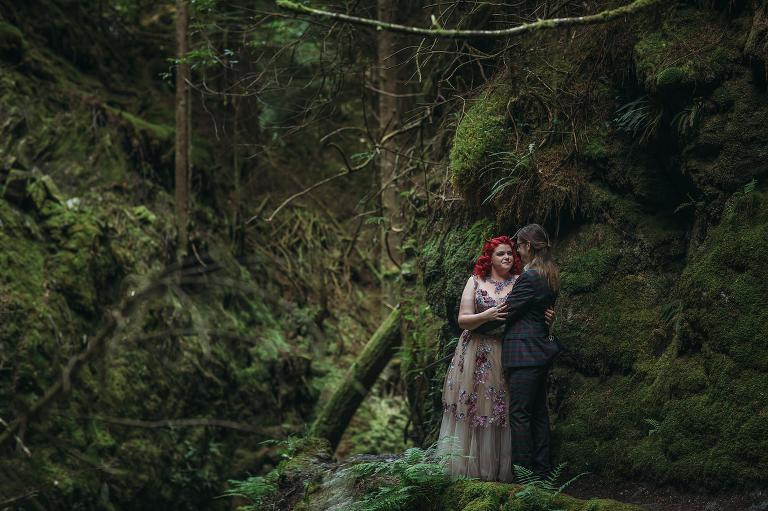 10.  C A T H E R I N E  D E A N 
Roll up roll up, if you like the idea of a two piece with extra SLAY then Catherine Dean's collections may be right up your street! Married at Dunglass Estate, Ren opted for awesome wide legged, high-waisted trousers an a beaut 3/4 length sleeve top – with a goddam FEDORA people. Brilliant, and effortlessly chic. Ren didn't just pick trousers because Will was going to be 'in a skirt' either ;)
"I was never the girly girl and after trying on (not that many) dresses I found the trouser piece and that was it. I'm not the biggest fan of veils so the fedora seemed appropriate!"
Man Ren, you nailed it. Still totally bridal – but in a way that still feels like 'you' :) You can find Catherine Dean on facebook, insta and pinterest :)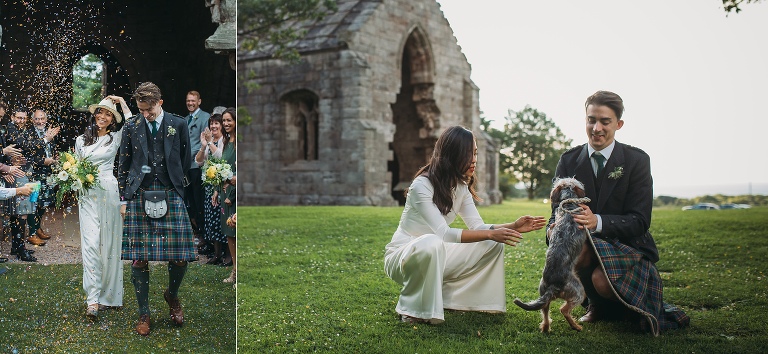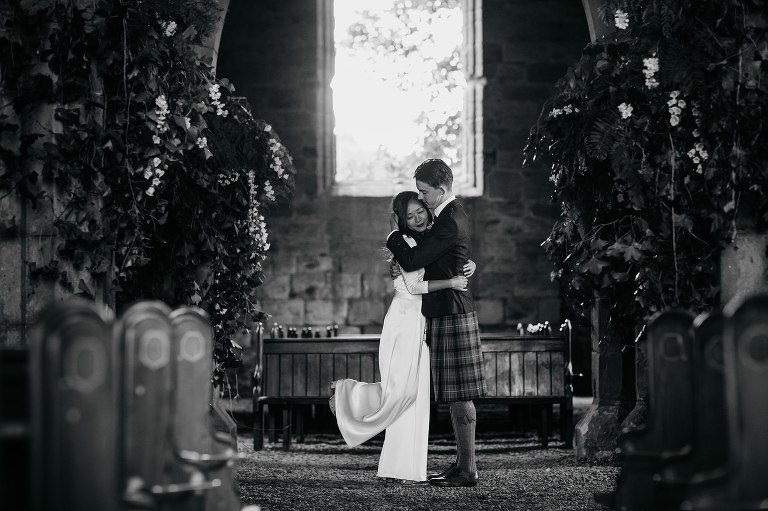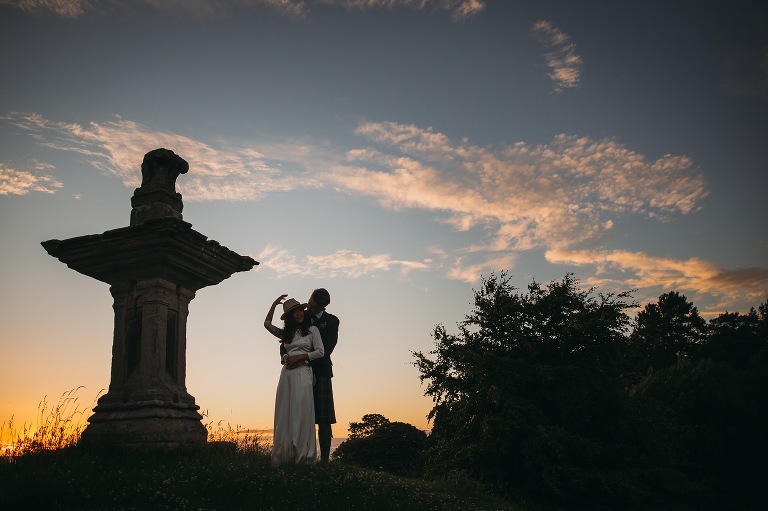 So there you have it – our current top 10 for bridal inspiration in Scotland and beyond! We hope you enjoyed reading. We'd love to know what you think – would you dare to buck the norm and wear something a little different? Or perhaps you have some extra tips for future brides out there – let us know in the comments below!
Don't forget, we're here to help ;) If you haven't done so already, check out our collection of helpful wedding blogs…right here!
Jo + Liam :)
'Mon, take a dander through our blogs, it's what they are there for after all ;) Don't forget to check out the categories below too!